London Broil Recipe – Dinner Menu for Family & Friends
Economical Dinner Nice Enough for Birthdays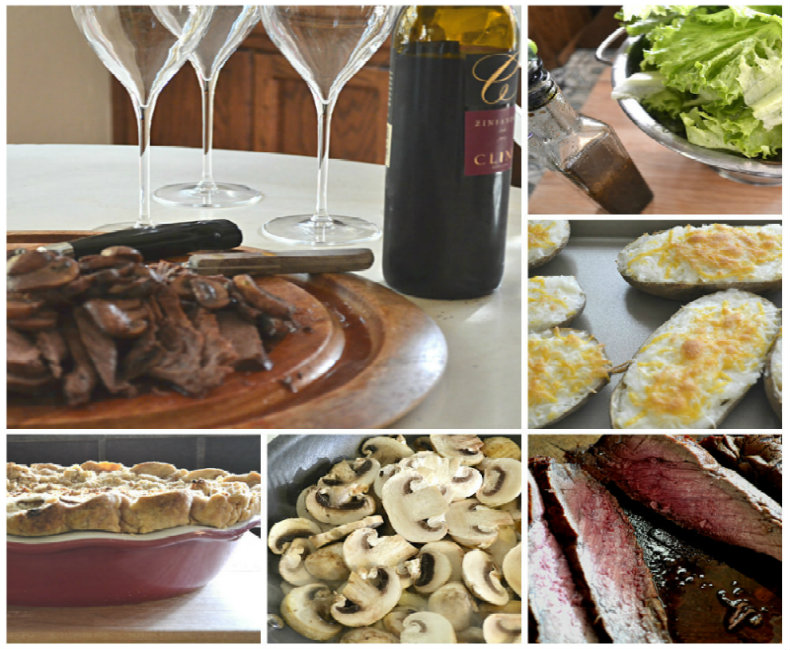 Meat and Potatoes, these guys are still around! And this one is having a birthday today. This London broil meal can be fixed in a jiffy. And is so economical … not to worry about how many guests he brings! Pair it with a good tasting economical wine. This is a London Broil Complete Dinner for Four!
Good cheap wine choices are out there, and it makes good sense to pair this meal with a value wine instead of something you would serve with filet mignon. The wine … spicy Cline zinfandel. All this is a hungry man's delight! Oh, and French apple pie for dessert!
Three recipes here … Well, four if you include the mushrooms smothering the meat … London broil with sautéed mushrooms, twice baked potatoes, and  balsamic salad dressing.
The sequence of putting the meal together could go like this.
Marinate the meat overnight
Make salad dressing up to the day ahead
Potatoes can be made the morning of the dinner. Baking for the last time just before serving.
Put the salad together the morning or afternoon on the same day. Add tomatoes and avocado, if using, as well as dressing just before serving.
Prepare the mushrooms at the time of the meat being broiled.
Uncork your value wine while the meat is broiling. Two bottles for 4 people. Just 20 bucks for two bottles of this wine.
Come join us, wine or beer or even diet cola to celebrate Stephen's birthday!