Simple Albondigas Soup
Meatball Soup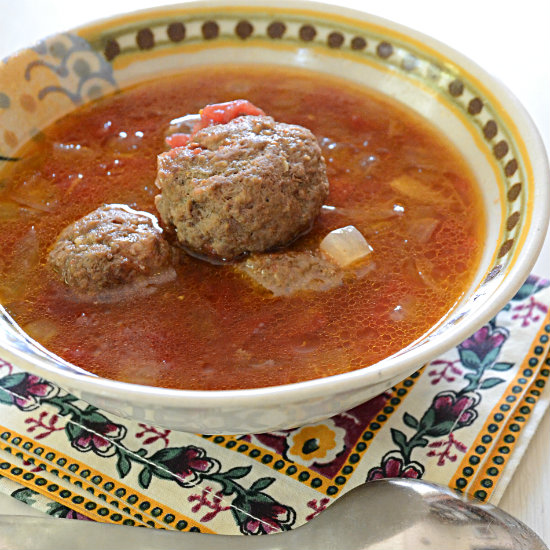 This is one of my brother's family favorites and I can see why. Use your favorite meatball recipe or mine, meatballs … And with the simple addition of tomatoes and onions to a beef broth you've Albondigas Soup.
The secret is to keep it simple.
Thank you Ruth, my sister-in-law, for the suggestion and recipe … I can see this as our family favorite too.
Recipe
1-1 1/2 pound of Meatballs
One tablespoon of olive oil
One sweet yellow onion-diced
32 Ounces of beef broth
15 Ounce can petite cut tomatoes or equivalent fresh tomatoes, peeled and diced
1/2-1 Teaspoon tabasco sauce
Sauté the onion in the olive oil over medium/low heat until lightly brown and tender. I prefer to use a dutch oven.
Add the broth, tomatoes and tabasco. Heat through. This can be blended to smooth if desired.
Taste for salt need.
Add meatballs to broth mixture (pre-cook the meatballs in the oven or skillet to render off the fat).
Simmer for 15 minutes or until meatballs are done through.
Serve with warm buttered flour tortillas.
Additions if desired:
2-3 jalapeños-diced and cooked with the onion
1 Zucchini-diced and cooked with the onion
Add diced jalapeños to meatballs