Alcatra
Right Out of Terceira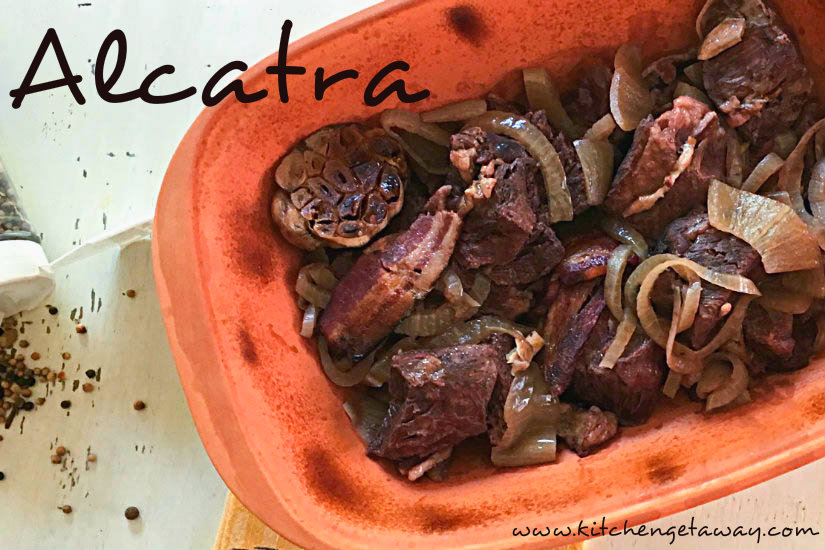 Nope, not Grandma Rose's recipe but she'd rave about this if she'd a taste. A young friend who shares recipes with me now and again says this will be prepared as one of the meats served at Easter. Melissa's family is right out of Terceira. She just had a birthday and complains she's in her thirties. Ha. Albeit she's been cooking since she was a child. Her recipes, yep I've tasted her Portuguese Beans, are a mixture of traditional Portuguese and well, American dishes. She tweaks her American dishes but her traditional dishes not so much. I tweaked this one just a little … lack of availability of slab bacon or "bacon steak" as Melissa calls it, and well, my handful of spices may be different from Melissa's. Slab bacon isn't really too difficult to find but I wanted to make the dish now … And not have to travel 40 minutes to our special Portuguese grocer.
Warning, this dish is not for the faint of heart … it's rich and you just can't stop at one serving.
Recipe
Traditionally this dish is cooked very slowly in a clay roaster. I do recommend this, however, in a pinch a dutch oven can be used. When using a clay roaster soak according to manufacture directions. While I use a bottom glazed only clay roaster because steam can't rise from the clay that is under liquid I recommend a fully unglazed just the same. There is something about a well used clay roaster. Remember to clean the clay carefully and not in the dishwasher. It will absorb cleaners. If you are a new user the clay while not fragile will crack if placed on a cold surface after roasting temperatures. Place on cloth pads. Too, start with a cold oven. Place into the oven and turn the temperature to 400 degrees F. This increases the temperature slowly.
400 degrees F for one hour then turn temperature to 300 degrees F or a little less for 3 1/2hours or until tender. Check at three hours if using a dutch oven. With clay the time doesn't have to be exact … overcooking with this method is harder. The secret is to keep the low temperature low enough to simmer but not rolling boil the meat. Clay cooks with steam and there by keeps the meat moist.
Servings 6 to 8
2 Onions-sliced thick
4-5 Pound chuck roast or bone-in beef roast-less expensive cuts are better for this recipe
Several short ribs with bones
Salt and pepper
1/2 Cup butter
Slab bacon-enough to cover across the meat and fill the roaster (Yes, this may be 3-4 pounds! Can't? Then add thick sliced bacon enough to cover meat and layer twice, about 2 pounds)
Use a tea stainer and fill one half with whole allspice and the other half with whole pickling spices-place tea strainer together carefully and quickly to avoid spilling contents
Head of garlic-rinse, remove some of outside covering and slice through top. Add the pieces cut off after peeling.
2 Large bay leaves
2 1/2 Cups dry red wine and enough water to just cover the meat
Directions:
Nothing is precooked here. Layer the onion over the bottom of the roaster. Place the meat that has been cut in chunks next.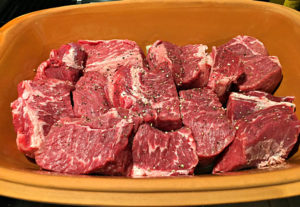 Salt and ground pepper the meat. Turn and repeat.
Add slices of butter over the top of the meat. I did this backwards but I prefer the pads of butter directly on the beef.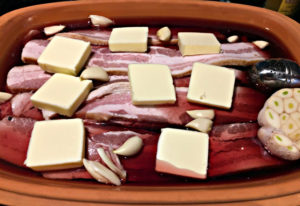 The butter goes directly on the beef NOT
as I have done here. Oops!
Next add the slices of bacon or slab of bacon in one piece, then wine and water as needed.
Tuck in the tea strainer with spices, the bay leaves and the garlic.
Place soaked clay lid over all, place into a cold oven and turn the heat to 400 degrees for one hour. Lower heat to 300 or a little less and continue cooking until done, about 3 to 3 1/2 hours.
It will look like this after cooking.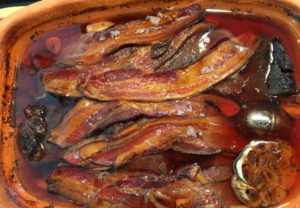 There will be much fat. Remove meat, bacon and onions to serving platter. I like to use the top of my clay roaster as a server.
Get ready for the best beef roast you have ever eaten!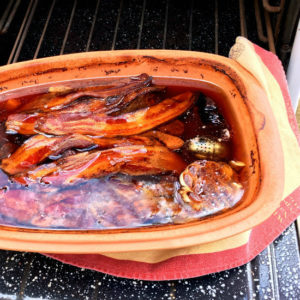 Right out of Grandma's oven!