An almond cluster chocolate Chip cookie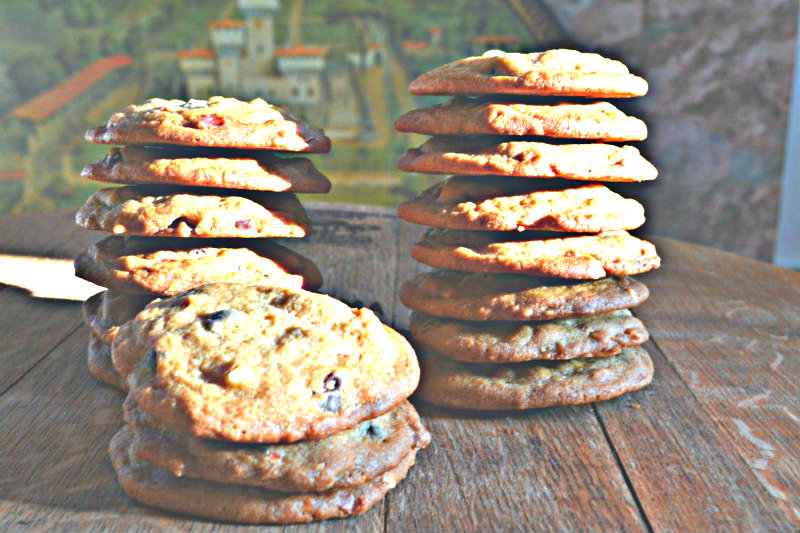 These Almond Chocolate Chip Cookies are crisp around the edges with just enough shortening to give them a little lift in the middle … making for a chewy center. The almonds add the crunch. Milk chocolate chips as well as raw almonds get lost in this cookie. So, I've added salted roasted almonds, and half semi-sweet and half milk chocolate chips instead. This cookie is my creation. I've been a lover of chocolate chip cookies and chocolate covered almonds for years. This is my attempt to bring the two together.
Recipe
Makes about 1 and 1/2 dozen medium size cookies
Bake at 350 degrees F for 12-15 minutes
Use a parchment paper covered cookie sheet
1 Cup + 2 tablespoons of all purpose flour
1/2 Teaspoon salt
1/2 Teaspoon baking soda
1/2 Cup granulated sugar
4 Tablespoons dark brown sugar
7 Tablespoons butter
1 Tablespoon shortening
1 Egg
1 Teaspoon vanilla
3/4 Cup coarsely chopped (see below) salted roasted almonds
1/2 Cup semi-sweet chocolate chips
1/2 Cup milk chocolate chips
Sift together the flour, salt and baking soda, and set aside.
Cream butter and shortening.
Follow with sugars and beat together until light.
Add egg.
Mix in vanilla.
Add dry ingredients slowly until just mixed.
Fold in chocolate chips and almonds.
Use small ice cream scoop to uniformly measure the cookie dough.