Cucumber Appetizer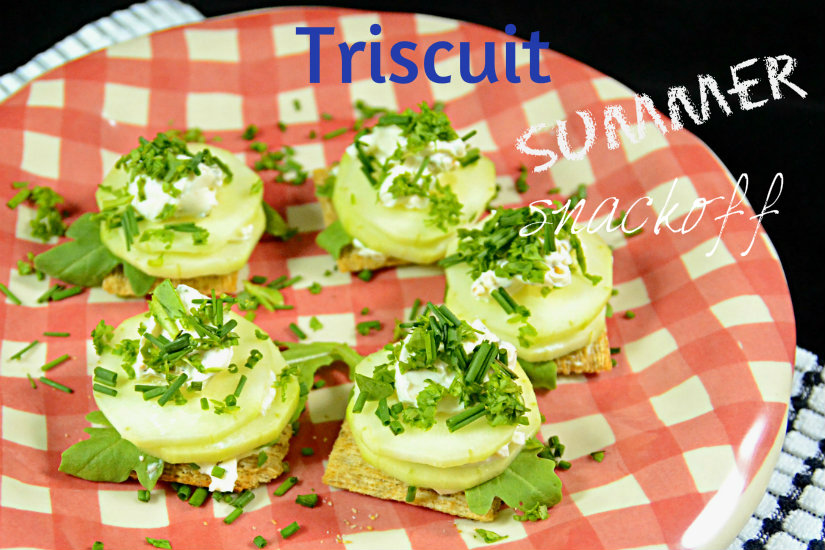 You are into something light for dinner … It's hot and you're not into cooking … This is perfect! Well, I had wine too.
Recipe
Makes about 24 appetizers
1 Cucumber-peeled or if you prefer washed and unpeeled- slice thin but not transparent
1/2 Cup cream cheese (about a 3 ounce brick)
1/2-1 Teaspoon Italian seasoning or your favorite combination of seasonings. (Another option: Mexican seasoning and don't forget to sprinkle the tops with Paprika.)
2 Cups loosely packed arugula-whirled in processor; and extra whole leaf for each appetizer
1 Small bunch of chives-minced
24 Triscuits
Remove the cream cheese from the refrigerator to soften. Add 1/2 teaspoon seasoning and mix thoroughly. Taste test. Add additional 1/2 teaspoon as desired.
Use about one teaspoon of cream cheese mixture per appetizer. Place about 1/4 teaspoon cream cheese on triscuit and add one small arugula leaf or fold in half. The cream cheese will ooze through and help the cucumber adhere.
Add one cucumber slice. Place 1/4 teaspoon cream cheese on the cucumber. Sprinkle lightly with processed arugula. Add another cucumber slice.
Sprinkle with additional processed arugula.
Top with minced chives.