Friendsgiving Apple and Cranberry Chutney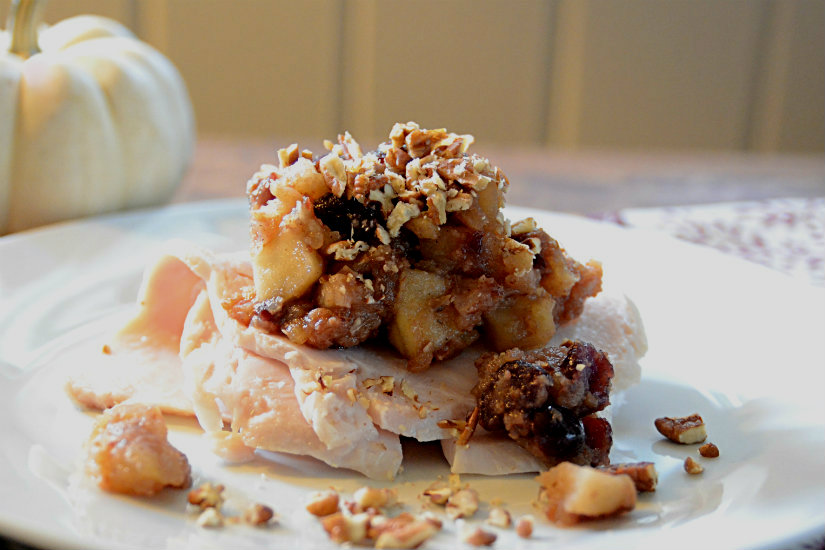 After the traditional cranberry sauce for Thanksgiving how about giving this a try for Friendsgiving. Sweet, tart and spicy apple. Too much of a change for your turkey? Try it with my Pork Chops Recipe!
Recipe
Makes about 4 cups
4 Granny Smith apples-peeled, cored and cut into 1/4 inch cubes
1/4 Cup water
1/2 Cup dried cranberries (or change out with raisins if you prefer)
1 Tablespoon brown sugar
1/4-1/2 Teaspoon ground ginger or 1 teaspoon fresh-grated
1/4 Teaspoon cinnamon
1/8 Teaspoon all spice
Sprinkle of nutmeg
Sprinkle of salt
2-4 Tablespoons apple cider vinegar (we like apple cider vinegar, taste test)
1/2 Cup chopped dates
In a saucepan place the apples, cranberries, brown sugar, spices, vinegar and the water. Cover and simmer on low for about 20 minutes until the apples are fork tender.
Add the dates and continue cooking another 5 minutes. The dates with become mushy if cooked too long. Add more water if the sauce is too thick. Note the dates will thicken the sauce. If the sauce is too thin simmer these last minutes without a lid.
Garnish with roasted pecans-chopped. (I do a simple pan roast without oil over medium heat. Stir to avoid over browning.)
Refrigerate if any left over. Enjoy!