Empanadas – Fruit filled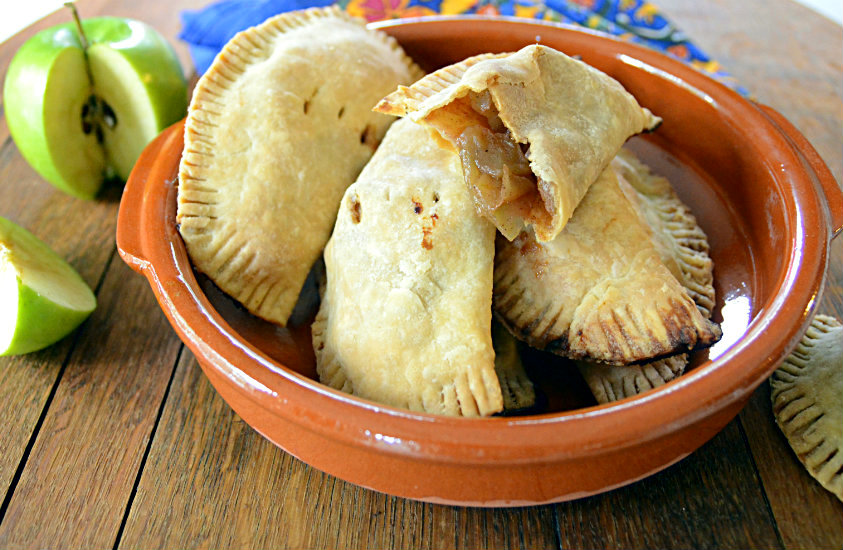 What a great lunch box dessert! Packs well, can be eaten with little hands, and oh yes, it's absolutely scrumptious! A real treat and healthy too. I say this is a perfect dessert for everyone. Change the fruit if you prefer another … add as much or as little sugar … and make it vegan if you'd like.
Recipe
Preheat oven to 375 degrees
Filling
4 Large Granny Smith apples-peeled and cubed (about 3 cups cubed fruit)
1/2-2/3 Cup (or 1/4C for tart outcome) sugar
1/2 Teaspoon cinnamon
1/4 teaspoon nutmeg
1 Tablespoon butter (omit for vegan or substitute with vegan butter)
1 Tablespoon flour
Crust
2 Cups flour-more for rolling surface
1/2 Cup butter (or substitue vegetable shortening or vegan butter)
1/4 Cup cold water
1/4 Teaspoon salt if butter is unsalted
Place filling ingredients into a saucepan and bring slowly to a simmer, stirring occasionally. Simmer until fruit is al dente and sugar has dissolved. The fruit will liquify a little but should thicken upon cooking for a few minutes. Cook longer if your family prefers softened fruit. However, not long enough to make applesauce. The fruit will cook in the oven as well. Set aside to cool slightly.
Add the flour (and salt if needed) to a large mixing bowl and cut in the butter. Add the water and mix until dough comes together. Gather the dough into a ball and cut into 8-10 equal parts.
Roll out each piece (as you would pie crust) separately into approximately 6 inch circle (it may be irregular-not to worry).
Place approximately 1/3 cup of the fruit (add a little of the liquid too) on one half of the 6 inch circle crust. Fold the other half over and seal. Crimp the edges with a fork. Trim to form a half circle evenly. Pierce the very top to provide steam release.
Place on a parchment paper covered cookie sheet. They will leak a bit during baking. And are rather fragile to some degree before baking. Handle carefully.
Bake until golden, about 30 minutes. Optional: Egg wash can be added before baking for a firmer crust or melted butter for a softer crust. The butter especially can cause heavy browning. Be prepared to turn the oven down during baking. Or put melted butter on toward the end of baking. This crust is firmer than pie crust and after it cools holds the fruit contents very well.
Delicious Apple Empanadas!