Apple Pie at its Best!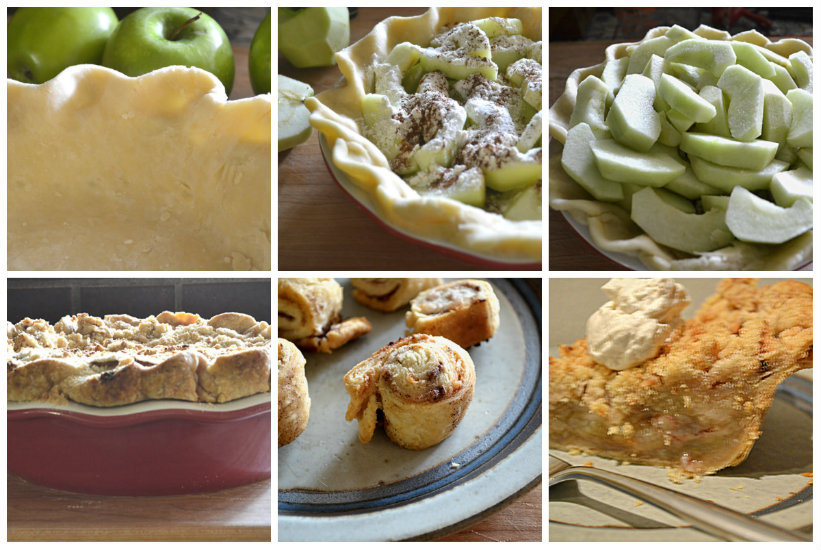 As American as Apple Pie…. That brings about emotion, doesn't it? And in our family we love our apple pie … not necessarily to just eat. Especially our Favorite French Apple Pie! I started baking pies as a preteen … Not surprising to my children. But what they don't know … my father was the first to show me how to bake an apple pie. Now this was odd in any day! My father was an athlete, always golfing in his spare time. And had never shown any interest in cooking before this … other than barbecue. But his mother, my Grandmother Rose, was always in the kitchen. So, I concluded he was quietly observant as a young boy. And craving apple pie as he remembered it. His most important step was to precook the apples to assure that they would be fully cooked after baking. What my son, Stephen, likes to refer to as the applesauce pie. Stephen didn't taste my dad's pie and I don't use this method. But I do like to bake my apple pie until the apples are no longer al dente. (Al dente is not used to describe fruit? Oop.) This is the applesauce bake. You can be sure when I bake this for Stephen's birthday I strive to keep the apples a little firm. This is sometimes done by baking the pie less time, or using 3 different apple types that cook at different rates. Oh, one last trick … not cutting the apples pieces smaller than 1/8 of a large apple. But the tenderness of the cooked apples is not the only thing that comes under scrutiny. The crust … two crust versus one, versus French topping (brown sugar vs white, flour vs oatmeal), versus butter crust, vs vodka crust, vs vegetable shortening crust. You get the picture.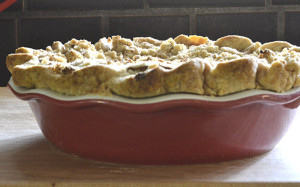 I just love this pie!
Pie Crust
There are so many pie crust recipes out there. You may already have a favorite! I have tried many but for my fruit, nut, pudding, and custard pies I keep returning to the very first crust recipe I learned. Now it could be that it is just the most familiar but I do like the flakiness and taste. I have substituted butter for the vegetable shortening, and have used equal proportions of each. This mock up crust is tasty but is less tender and has a little bit of a crunch. You will not have a soggy crust on the bottom of the pie plate with the butter substitution … a plus. But this often can be achieved simply by making sure your pie crust is not too thick and baking the first few minutes in a hot oven. This is a universal recipe seen in many old cookbooks as well as printed or carved into the surface of a pie crust rolling surface.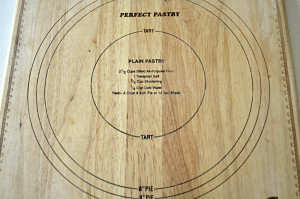 Here is my rolling board. I have no idea where I bought this or maker. Slightly embedded in the surface is the recipe I use, the old universal one. The recipe here is for a two crust 9 inch pie. I used a recipe for one 8 to 9 inch pie crust. 1 and 1/2 Cup all purpose flour 1/2 Cup vegetable shortening 1/2 Teaspoon salt 3 to 4 Tablespoons of cold water Cut shortening into flour (salt already added) Add 2 tablespoons water and mix, then add a tablespoon at a time as needed Dough will form a ball with addition of water as you stir Use your hands to help bring together the dough Roll the dough out on a well floured surface with a well floured rolling pin
Apple Filling
7 Granny Smith apples or use a combination of Golden Delicious, Rome, McIntosh, Granny Smith, 7-8 cups total 1/2 to 3/4 Cup sugar, 1/2 cup will produce a slightly tart pie 2 Tablespoons all purpose flour 1/2 Teaspoon cinnamon Sprinkle of salt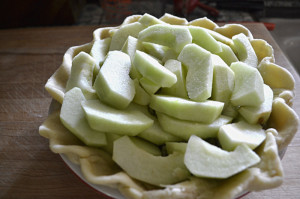 Peel, core and slice apples … bigger slices for those that prefer a slight firmness to the baked apples. Layer the sliced apples inside the uncooked piecrust. Half way through add the sugar, flour, cinnamon and sprinkle of salt. Continue layering the apples. The apples will cook down. So, generously layered is preferable. If this was a two crust pie dots of butter would be added. But the crumb topping I'm using has lots of butter.
Crumb Topping
3/4 Cup all purpose flour 1/2 Cup sugar 1/8 Teaspoon salt 1/3 Cup cold butter Cut butter into mixed dry ingredients. Sprinkle over the top of the pie.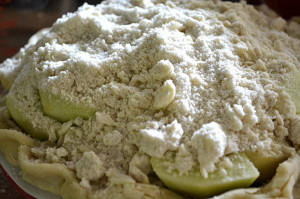 Bake in preheated oven 425 degrees F for 15 minutes and then turn temperature to 350 degrees and continue baking for one hour. This baking instruction will produce well cooked apples. You should see some bubbling around the edges of the pie when done. If you prefer firm apples bake the first 15 minutes at 425 degree and then turn oven to 400 degree for an additional 35 minutes. You may need to cover the edges of the pie crust with foil to prevent over browning with this second baking method. Serve your pie with slightly sweetened whipped cream or ice cream. Just Delicious!
What to do with the small amount of leftover pie Dough?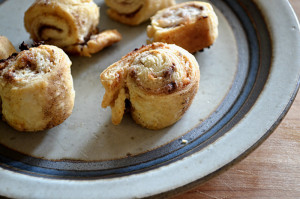 Children and grandchildren will remember this little treat. Roll out the leftover pie dough. Spread with butter. Sprinkle with sugar and cinnamon. Roll up and slice. Bake in oven with pie until golden. Yum, they'll say.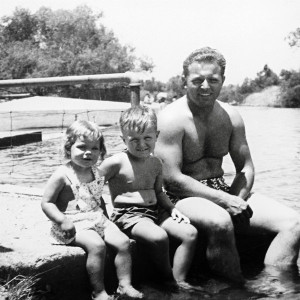 My dad, brother and I enjoying the summer in the late 1940's at a recreation spot, McKay's Point, near our hometown.