Apple Raisin Cobbler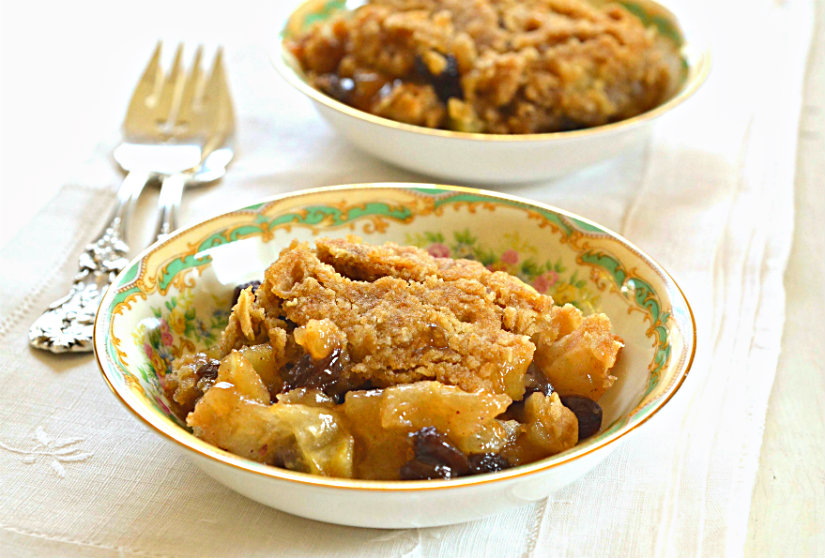 This is so quick and easy to make and perfect for breakfast. My Valentine had this for his breakfast! Very little added sugar, salt & fat. In fact, you could cut back on all three without poor results. Amazingly rich! Yes, you must love raisins! This old recipe is taken from my Mother's favorites. Charlotte, one of Mother's best friends, put this together. You might have enjoyed Charlotte's Pineapple Cream Angel Food Cake, here. Now another terrific recipe … both must haves.
A recipe so easy you might believe it can't pass as a company dessert. Just know these ladies were into classy. Everything they cooked was perfect for guests. Enjoy!
Recipe
Preheat oven to 350 degrees F.
Lightly butter a 9 inch square baking dish.
1 Cup raisins
1 Tablespoon cornstarch
2/3 Cup water
4 Cups tart cooking apples-cored, peeled and chopped
1/3 Cup or less white sugar
1/4 Teaspoon cinnamon
1/4 Teaspoon nutmeg
1/2 Teaspoon salt-divided, or eliminate 1/4 teaspoon that is added to filling
3/4 Cup flour
1/2 Cup brown sugar
1/4 Cup butter
Simmer raisins, cornstarch and water in a small saucepan over medium/low burner until thickened and syrup is clear. Set aside.
In a large mixing bowl stir together apples, white sugar, spices and 1/4 t salt-if using. Add cooked raisins.
Pour mixture into baking dish. Set aside.
In a medium mixing bowl add flour, brown sugar and 1/4 t salt. Whisk to mix. Cut in butter until crumbly. Sprinkle this over the top of the fruit and pat lightly.
Bake for 35 minutes or until apples are very soft if you're not into al dente.
Serve warm with cream, whipped cream, ice cream or nothing at all. It can stand alone perfectly! Enjoy!