Apple Spice Cake with Caramel Topping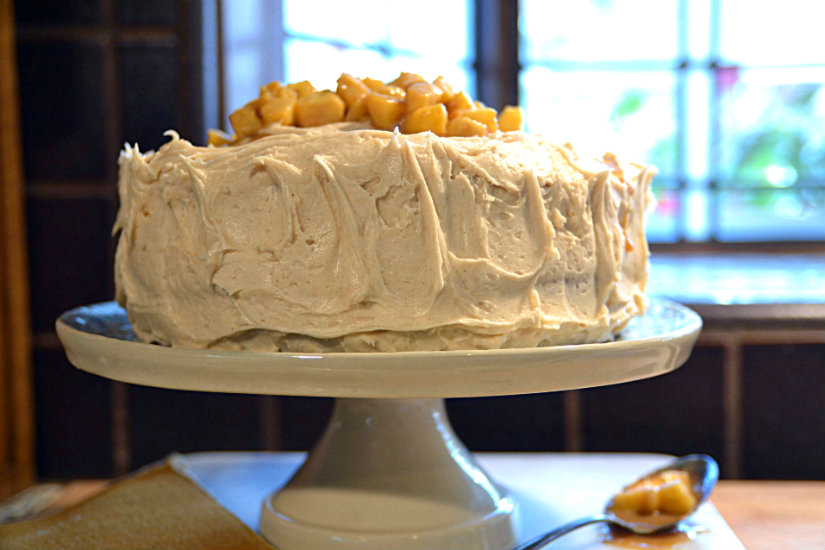 Late Summer and Fall is Birthday Season here, one birthday after another. My guys definitely have favorite cake or pie requests. My daughter, not so much. I'm always on the lookout for new recipes that just might satisfy everyone. One birthday celebration and one birthday cake might work for all. They're aging nicely <smile> and sharing is now a really good thing. Everyone agrees my apple pie is pretty hard to beat for any occasion. So, an Apple Spice Birthday Cake sounded like an excellent substitution. I've been saving this Bake From Scratch Fall 2015 Issue. Yep, the cake on the cover became my choice! Let me tell you a bit about this recipe. It's simple, few ingredients … Great presentation … Great spice and apple taste! The downside … The cake is a bit heavy. I've only baked this recipe once and I must admit I was a bit distracted by a sweet little 3 year old. So, were the measurements right on? Hmm. As for the frosting it's tasty and rich. For two 9 inch layers it's much more than enough. This Apple Spice Cake with Caramel Topping is definitely worth a try!
Recipe
Preheat oven to 350 degrees F.
Use two 9 inch cake pans-butter and flour and I recommend parchment paper rounds placed on the bottom-butter these, top and underneath too.
2 Tablespoons salted butter
2 Cups your favorite cooking apple-peeled and chopped
! cup butter-softened The (recipe calls for unsalted and has no added salt. I found the recipe just a pinch lacking in salt.)
2 Cups of sugar
4 Large eggs
3 Cups cake flour
1 Tablespoon baking powder
1/4 Teaspoon salt (My suggestion. If using salted butter this can be eliminated.)
2 Teaspoons ground cinnamon
1/2 Teaspoon ground cloves
1/4 Teaspoon all spice
1 Cup milk
2 Teaspoons your best vanilla
In a medium skillet melt the 2T butter over medium heat and add the apples. Cook until the apples are fork tender. Remove from heat and cool. I suggest the apples be cooled to room temperature. This recipe states to cool for 10 minutes. Your choice.
In a medium bowl measure the flour, baking powder, spices and salt. Whisk thoroughly.
With a mixer beat the butter until light and fluffy. Use a large mixing bowl here.
Add the sugar and continue beating until sugar begins to dissolve.
Add one egg at a time to the butter/sugar mixture. Beat well after each addition.
Now alternating with the milk add the dry ingredients to the butter/sugar/egg mixture. Do not over mix.
Add the vanilla and fold. Now fold in the cooled apples.
Divide into two cake pans. Bake 25-30 minutes.
Cool completely before frosting.
Frosting
This makes an enormous amount of frosting. Cutting back the recipe by 1/4 will still give you plenty.
1 Cup butter-softened
2 Pounds powdered sugar
1 Teaspoon ground cinnamon
8-9 Tablespoons milk or cream
1 Teaspoon your best vanilla
Beat the butter until light and fluffy. Add the sugar and spice slowly with the milk and vanilla. Beat until fluffy and well mixed.
Frost the cake and add the topper below.
Topper
After making this cake adding jarred caramel sauce just didn't seem an option. Here is my recipe for caramel sauce.
1 Cup dark brown sugar-packed
1/2 Cup heavy cream
Pinch of salt
3 Tablespoon butter
2 Teaspoon of your best vanilla
In a medium saucepan add the first three ingredients. Cook for about 6 minutes over medium/low heat stirring to avoid scorching.
Add the butter and vanilla and continue cooking another 3-4 minutes. The longer you cook the thicker the sauce and you do want the sauce pretty thick for this topper.
Refrigerate until completely cool.
In a medium skillet over medium heat add 2 teaspoons of butter and 1 1/2 cups apple-peeled and chopped. Cook until fork tender. Drain if any juice is noticed. Cool to room temperature.
When apples are cool fold into cool caramel sauce. The mixture should be fairly thick. If it isn't simply use a slotted spoon to drain off the mixture before placing atop the cake. Or simply serve on the side.