Applesauce Oaties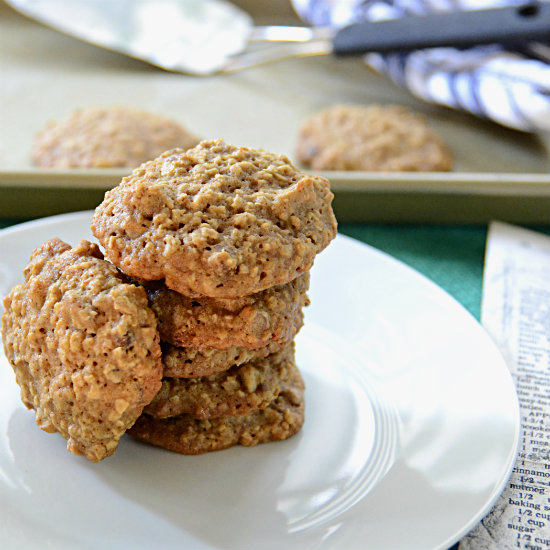 Who's recipe is this anyway? For years I've been shuffling this cookie recipe in and out of my recipe box without trying it … Looking at it … Wondering where it came from … Not recognizing the newspaper clipping.
An internet search for Applesauce Oaties brings up Mrs. Field's Applesauce Oaties … the recipe looks identical. But Mrs. Field's wasn't up and running in 1975. Was it? The REGISTER September 18, 1975 article doesn't give mention to the origin. At least not my portion.
Because the original recipe makes 5 dozen cookies I decided to do a half recipe. But I didn't divide the ingredients exactly in half and I added a little vanilla. No chocolate chips were added either as in the original. The cookies are very good. I do prefer chewy oatmeal cookies and these were not. The applesauce could be tasted easily which was a real plus. If I had to choose between my Molasses Oatmeal Cookies and Applesauce Oaties I prefer the Molasses Oatmeal. And if I had followed the recipe exactly for the Oaties and added the chocolate chips would I feel the same?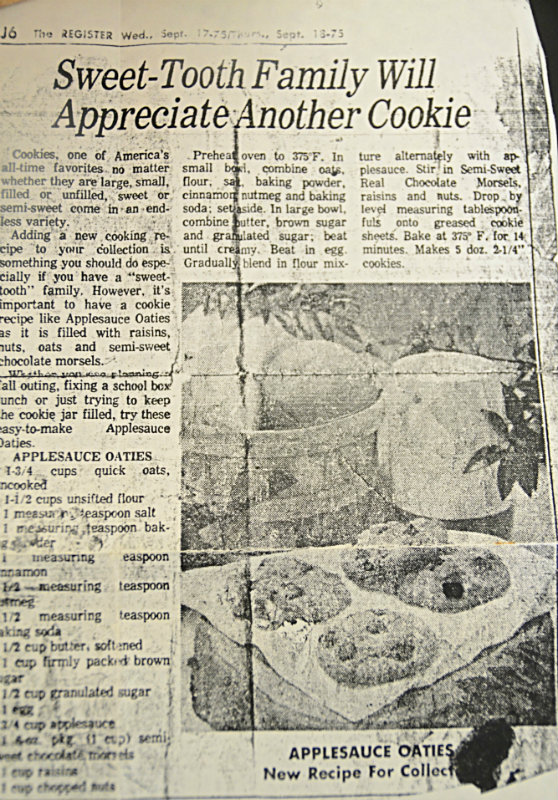 Here is my version
Preheat oven to 350 degrees F
Makes 2 1/2 dozen 2 inch cookies
1 Cup quick oats
1 Cup all purpose flour
1/2 Teaspoon salt
1/2 Teaspoon baking powder
1/2 Teaspoon cinnamon
1/4 Teaspoon nutmeg
1/4 Teaspoon baking soda
1/4 Cup butter-room temperature
1/2 Cup packed brown sugar
1/4 Cup sugar
1 Egg
1 Teaspoon vanilla
1/3 Cup applesauce
1/2 Cup chopped nuts
1/2 Cup raisins or sweetened dried cranberries
1/2 Cup chocolate chips (optional)
Place flour in a medium size bowl and add salt, baking powder, cinnamon, nutmeg, and baking soda. Whisk.
Add the oats to the flour mixture and whisk. Set aside.
In a large bowl cream together the butter and sugars until fluffy. Add the egg and vanilla and thoroughly mix, light and fluffy.
Add half the flour mixture to the egg-butter-sugar-vanilla mixture and mix. Add the applesauce and the last half of the flour mixture. Mix.
Fold in nuts, raisins and chips if using.
Spoon heaping tablespoon onto cookie sheet allowing a few inches between. Bake about 15 minutes until lightly brown on top and slightly browner around the edges.
Applesauce Oatmeal Cookies