Banana Cream In Meringue Shells
tonight's Dessert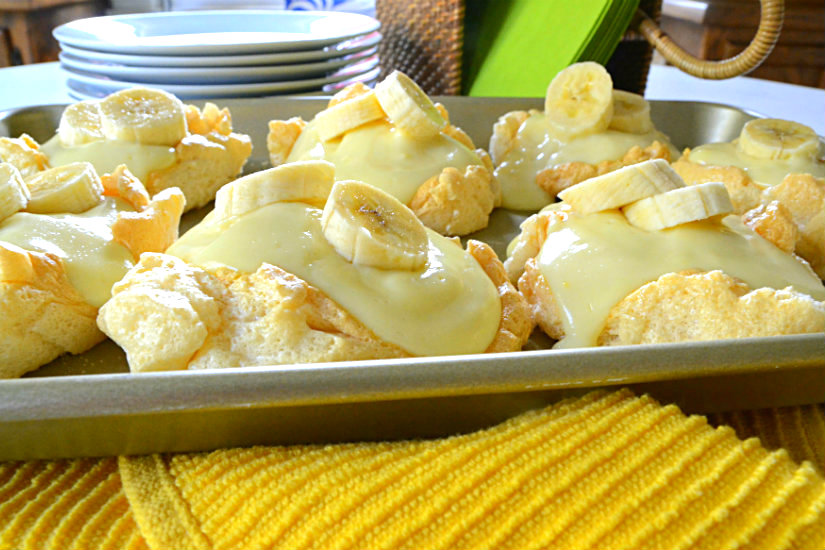 Meringue Shells are great for serving fruit, sorbet or pudding desserts. Light in taste and calories, slightly crunchy. Make them a bowl, or a pillow of meringue. And yes, it's pretty good all by itself.
I've added a banana cream that works as an 8 inch pie filling as well.
I'm ready for dessert!
Recipe
Preheat over to 250 degrees F
Makes 6-8 shells
Meringue Shells
4 Egg whites-room temperature
1/4 Teaspoon cream of tartar
1 Tablespoon of pure maple syrup
1 Teaspoon best vanilla
Beat the egg whites with the cream of tartar until soft peaks form. Add the syrup and vanilla slowly as you continue to beat to a stiff peak.
On a lightly cooking sprayed cookie sheet (wipe off excess) with a very fine dust of all purpose flour added (excess shaken off) spoon the meringue into mounds. Use a spoon to shape each mound into a bowl.
Bake for one hour until the meringue is no longer moist, and is crispy to touch. Careful, it breaks off easily. Let cool completely before filling.
Once the pudding is added the dessert should be served rather promptly. The meringue will dampen and become soft.
Rich banana Cream
1 Cup Whipped Cream-This is whipped and then measured. Add no sugar or flavoring. Keep chilled.
2 1/4 Cups whole milk
1 Tablespoon of each, all purpose flour and cornstarch
2 Egg Yolks-folk mixed in a measuring cup or small mixing bowl
1/2 Cup sugar
Pinch of salt
1 Tablespoon butter
1/2-1 Teaspoon vanilla
3-4 Large bananas
In a saucepan over medium heat add the milk, cornstarch, flour, sugar, salt. Bring to a low boil stirring constantly. Cook for additional 2 minutes. It will thicken nicely.
Remove the mixture from heat and add a small amount to the egg yolks mixing immediately.
Add the egg mixture to the thickened mixture and place back on heat. Bring to simmer and cook stirring constantly about 2 more minutes.
Remove from heat and add the butter and vanilla. Mix well. Let cool to room temperature. Stir every so often to avoid skin from forming.
Fold in whipped cream. Slice bananas over bottom of pie crust or meringue shells and add the pudding. Garnish with additional whipping cream.
Enjoy!