Bangers and Mash with Onion Gravy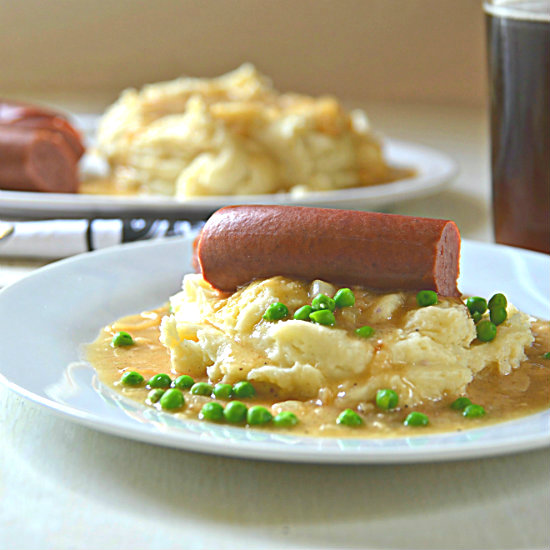 When Gayle mentioned she was going to have Bangers and Mash I knew she wasn't planning a trip to Bakersfield … My only Pub experience (not exactly true, Boston too). I found myself yearning for the experience without the travel. So, at 930 this morning I had Bangers and Mash for breakfast. The truth is once a week, Wednesdays, I do a thorough pantry and refrigerator/freezer check for outdated items. My potatoes were stored too close to light and were beginning to sprout. The onions were showing a little stress and I clearly needed to cook the sausage soon. Gayle's comment was the spark! Enjoy this easy fix meal with pantry items we all have … In no time.
Recipe
About the sausage … I could say that any sausage would do and it kinda does. But if you are looking for authentic Bangers and Mash sausage you may have a task ahead unless you have a fabulous deli or meat market near by. Cumberland sausage is mentioned in the same breath with Bangers and Mash. I must admit I haven't experienced this particular sausage nor Lincolnshire. I say, do the best you can to find the sausage you feel you, your family and friends will enjoy. Since some sausages are precooked you will need to follow the directions per package. If you are fortunate enough to find fresh sausages ask your butcher for cooking instructions or do an internet search. Here is a great article on cooking bangers.
Potato Recipe
8 Small white or Yukon gold potatoes-no russets please
1/4 Cup butter
1/4-1/2 cup milk-depends on your preference-creamier or less creamy potatoes
1/2 Teaspoon salt or to taste
1/4 Teaspoon pepper-optional
2 Teaspoon Dijon mustard-generous measurement
1 Teaspoon garlic whole grain mustard-generous measurement
1 Teaspoon Worcestershire sauce-generous measurement
Peel potatoes and place into a pot with a couple of inches of water. Cover the pot and bring the contents to a boil. Turn down to a low boil and cook until fork tender about 20 minutes.
Drain the water off and place potatoes into a large bowl for mixing.
Add the butter right away to melt over the potatoes.
Mash down on the potatoes with your beaters to crush a bit before mixing.
Add part of the milk and beat the three ingredients until well incorporated. Add more milk as necessary.
Add all the others ingredients and mix on high until light and fluffy. Cover and set aside.
Onion Gravy Recipe
3 Tablespoons of butter
3 Small-medium sweet yellow onions-peel and slice into rings
14 Ounce can chicken broth or less if you have sausage drippings for flavor
1 Teaspoon Dijon mustard, add one more teaspoon if you are really into it.
3 Tablespoons of flour in 3/4 cup water-place into a jar and shake to eliminate lumps-use as directed
Salt and Pepper to taste
Over medium heat melt the butter in your skillet and add the onions. Stir to separate into rings. Sauté until golden and caramelized. You can remove the onions at this point and reserve. Only remove if you want to have the onions intact when you serve the gravy.
In the same skillet add the chicken broth and mustard and stir to mix. If you have drippings from the sausages add to this as well. You may want to use the sausage skillet to make the gravy to begin with.
Now add about half of your thickener (flour/water mix) stirring constantly over medium heat. Simmer until your desired thickness is acquired. You can add the remainder of the thickener if necessary.
Salt and Pepper to taste. Add back the onions before serving.
Bangers and Mash can be served with peas and still be traditional.
Enjoy!!