Barbecued Brisket Soup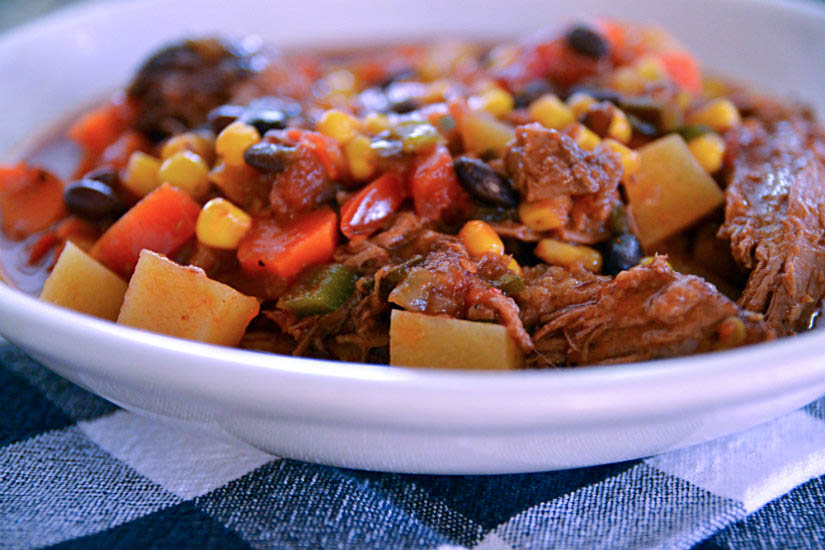 Happily put this together for a friend of mine! We just knew no one had made such a soup! If into brisket and the flavors of barbecue with a little heat this is the soup for you. To start I recommend cooking the brisket the day before you make the soup. It definitely can all be done the same day but I recommend putting the brisket in the refrigerator after cooking to make the removal of fat easier. Brisket can have a thick fatty pad over the top. This helps give the cooked brisket a juicy taste but can lead to a greasy soup unless removed. Cutting some of the fat off before cooking is an option too but you will still need to leave a little to keep the meat juicy. Here is the recipe for the Pulled Brisket. 
Recipe
After cooking the brisket according to my Pulled Brisket recipe add the following ingredients and cook on high in your crock pot until the potatoes are done to your liking … about an hour.
1/2 Cup diced red bell pepper
1/2 Cup diced green bell pepper
2 Large carrots-diced
1 Large russet potato-1″ cubed
4 Ounce can chipotle peppers in adobo-chopped roughly
2 Ounce can chopped jalapeño peppers (I used half of a 4 ounce can but you may use fresh diced. Remove seeds and membranes if using fresh or your soup may be too hot.)
15 Ounce can petit cut tomatoes
1 Cup of beef broth or more if you prefer thinner soup
14 Ounce frozen Southwest corn (This will generally have the following ingredients: #1 corn, green & red bell peppers, black beans and poblano peppers. I prefer the frozen product but you can use canned. Be sure and drain the canned.)
Salt to taste.
Enjoy this with Ed & me!