Basic White Bread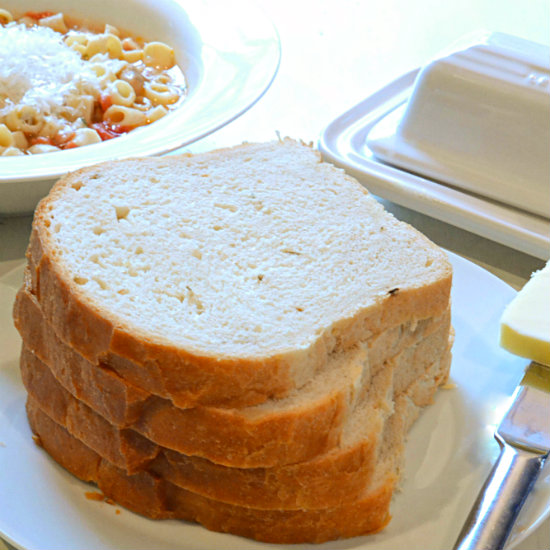 There's nothing like the smell of baking bread. I have two good reasons for bread making today. It warms up my home and it's delicious! But I'm also having leftovers, yep, Pasta Fagioli, for dinner and I'm wanting to add something extra to make the leftovers seem new.
Time is needed for the rising process but otherwise this recipe is amazingly simple with few ingredients. You don't have to be gentle with the dough. Work those arms and shoulders! If your kitchen is cold this time of year … Find your warmest area for the rising. Another trick … cover the bowl of dough (leaving ample room for rising) with multiple towels.
Recipe
3/4 Cup lukewarm water
1 Tablespoon sugar
1 Packet (2 1/4 teaspoons) of active dry yeast-Fleischmann's preferred
3 1/2 Cups all purpose flour-more for kneading
2 Teaspoons salt
1 Tablespoon vegetable shortening or soft butter-another teaspoon for greasing
2 Teaspoons mixed Italian spices (optional)-add with salt
Stir sugar in the water until dissolved. Add the yeast, no stir, and set aside for 5 minutes.
Whisk together the salt and flour in a large bowl.
Add the yeast water to the flour and mix with your hand. Add the shortening in bits and continue mixing until the dough follows your hand around the bowl.
Remove the dough onto a floured board. Knead until smooth and elastic, about 10-15 minutes.
Grease a large bowl and add the dough. Turn dough over once to cover with shortening or butter.
Cover the bowl with a damp dish towel and add additional towels over the top, several inches thick.
Let rise until doubled, about 2 hours, in a warm spot, 80 degrees F. Note: If the dough gets too warm the bread will taste yeasty.
Poke the dough with a finger after rising. If the indentation holds it's ready.
Punch down the dough. Remove to a floured board.
Knead lightly and shape into a loaf.
Place into a buttered loaf pan, 9 by 5 inches. Cover allowing room for rising.
Let rise until doubled again, about 45 minutes.
Bake in hot oven for 30 minutes.
Remove (dump out) the loaf after 5-10 minutes. Butter top for a softer crust.
ENJOY!