Bakersfield Favorite Basque Vegetable Soup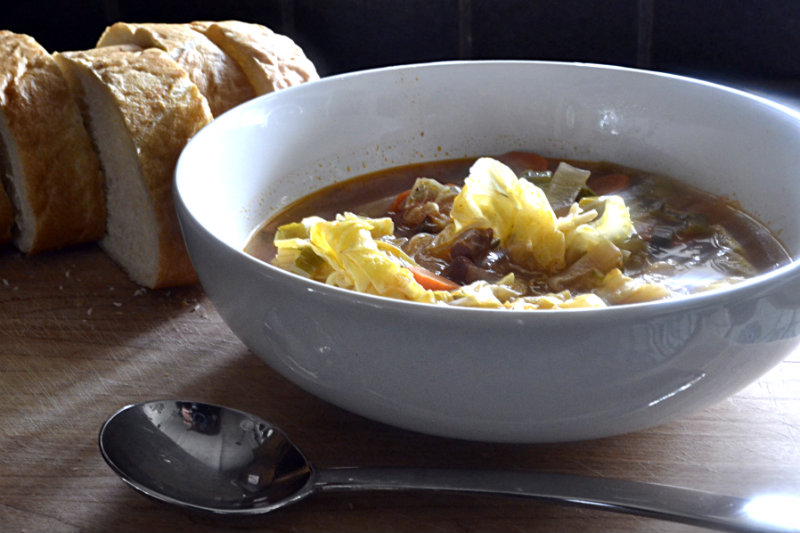 It's 1982 and my husband takes a position as a Deputy DA in Bakersfield, California. Really, you did? Really! It was the first time I would live a distance from my hometown. It was a move that significantly changed the lives of many.
It didn't take long to establish ourselves in this community. We were within walking distance of our new favorite restaurant, Mama Tosca's. And in old town Bakersfield we loved Luigi's, quite a hangout for Bakersfieldians. In this same area of town several Basque restaurants were longtime establishments. Can't forget the Pyrenees Bakery! Basque is a part of Bakersfield culture. The food is delicious and overwhelmingly plentiful at these family style restaurants. Just ordering the setup was more than enough for our family. This included a vegetable soup, beans, salad, pickled tongue, spaghetti, bread … And was there a salsa?
Today I am going to be putting together a version of my Basque Vegetable Soup. It's light … Just what I'm craving after the heavy holiday meals. How about you!
Recipe
Makes about 7-8 quarts
1/4 Cup olive oil for sautéing vegetables
1 Cup chopped onion
2 cloves garlic-minced
2 Large leeks-sliced, dark green tops removed
3 Ribs celery-sliced
1 Small head cabbage-sliced into 8 small wedges
4 Large carrots-peeled and sliced thin
5 Medium white potatoes-peeled and cubed
3/4 Cup red beans-uncooked
2 Bayleaves
1 Teaspoon dried thyme
Salt and pepper to taste
1 Quart vegetable broth
2 and 1/2 Quarts water
One 15 ounce can tomato sauce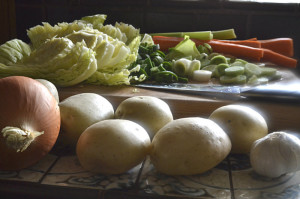 Prepare all the vegetables.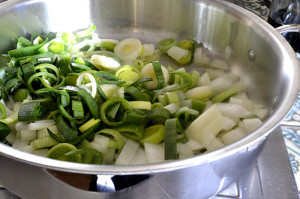 Sauté the following vegetables: onions, celery, garlic and cabbage. I did this in batches. When each develops a slight color remove to an 8 quart stock pot.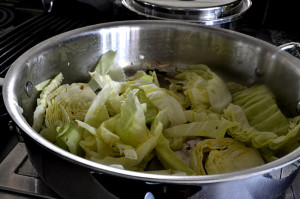 This is the cabbage being sautéed. This is a great way to cook cabbage when eaten as a side dish.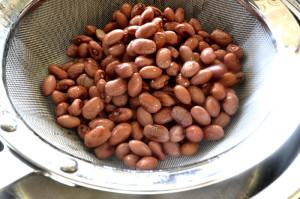 While sautéing the vegetables pick through 3/4 cup dried beans for pebbles or dirt. Then rinse. Place the dried beans into a saucepan. Add two cups of water. Bring to a boil, cover and remove from heat. Let stand one hour. At completion of the hour pour off water and set aside.
Put all remaining ingredients into stock pot including the beans that have been set aside. Bring the ingredients to a boil. Turn heat to low and simmer for 2 hours or until the beans are tender.
Serve with fresh French bread and homemade salsa. My version of Basque Vegetable Soup. Just Perfect!