Bean Salad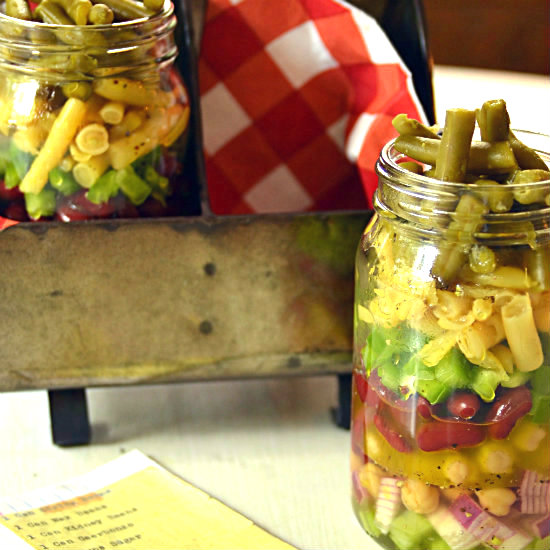 Yep, this is another old recipe. Mom's salad recipes are on my mind as Mother's Day approaches. Of course our eating habits are quite different from the 60's. I've made a few changes to this recipe but it can even be brought closer to date by simply adding blanched green & yellow beans instead of the canned variety … Just as mom's Layered Salad might better include baby spinach leaves or a spring lettuce combination instead of iceberg to make it more palatable for many. Those are easy fixes. But sometimes it's just fun to "remember when" and leave the recipe as it was … Especially on Mother's Day! OK, I have to admit 3/4 cup sugar in the dressing is way too much. Yikes!
Recipe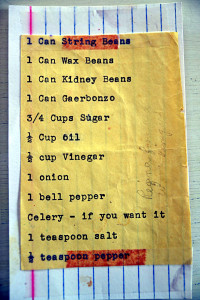 Here is the original recipe. I have substituted olive oil for the vegetable oil I'm sure was used. And substituted white wine vinegar for the vinegar (probably white or cider back then). The sugar has been reduced to 1/3 cup and could possibly be reduced to 1/4 cup if you like tartness. I used 1/2 red onion and 2 ribs of celery-both diced. Back in the day bell peppers were rather small. If using a large I suggest 1/2 instead and diced.
Rinse all canned (14.5-15.5 ounce can each) ingredients, green beans, garbanzo beans, kidney beans and wax beans separately. You can layer the ingredients as I have done in my photo or mix all together. You will have approximately 8 cups of vegetables.
Next mix the oil, vinegar, salt, pepper and sugar and pour over the top of the vegetables.
I like to serve this salad as a main dish with cheesy (Vegan) croutons. Enjoy!