Beef Corn Chowder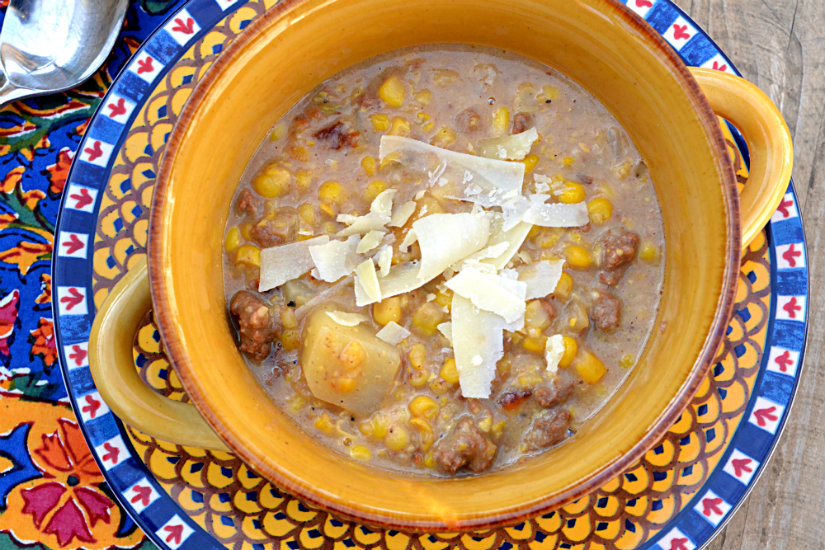 Few ingredients … simple recipe … stick to your ribs kinda soup! Check out my 50+ soups!
Recipe
1/2 Tablespoon olive oil
3/4 Cup diced yellow onion
1 Pound ground beef
2- 16 Ounce bags frozen sweet corn (white or yellow)-partially or completely defrosted
3-4 Cups beef broth (as needed for desired thickness)
1/4 Cup butter
2 1/2 Tablespoons all purpose flour
1 1/2 Cup whole milk
Salt and Pepper to taste
1 Large russet potato-peeled and cut into one inch cubes
Parmesan cheese for topping
Place broth in your crock pot. Turn temperature to low.
Heat oil in a medium skillet over med/high heat. Add the onion and sauté until almost limp. Add the ground beef a little at a time (so the heat doesn't drop). Brown beef. Salt & pepper to taste. Drain fat from cooked onion/beef mixture. Add this to the broth that has been heating in the crock pot. Layer 16 ounces of corn over hamburger and cover.
Whirl 16 ounces of corn in your food processor or blender until almost smooth. Set aside.
In a sauce pan add the butter over medium heat and melt. Add the flour and stir until mixture begins to bubble. Slowly add milk and continue stirring while mixture thickens. Add the processed corn to the creamy mixture. Salt and Pepper to taste. You have now made an amazing cream corn.
Add the cream corn to the mixture in the crock pot. Stir to mix.
Add the potato and continue cooking soup for about 2 hours. Diced carrots can be added too if desired.