Beef Ragù with Kale or Spinach
Sunday Pasta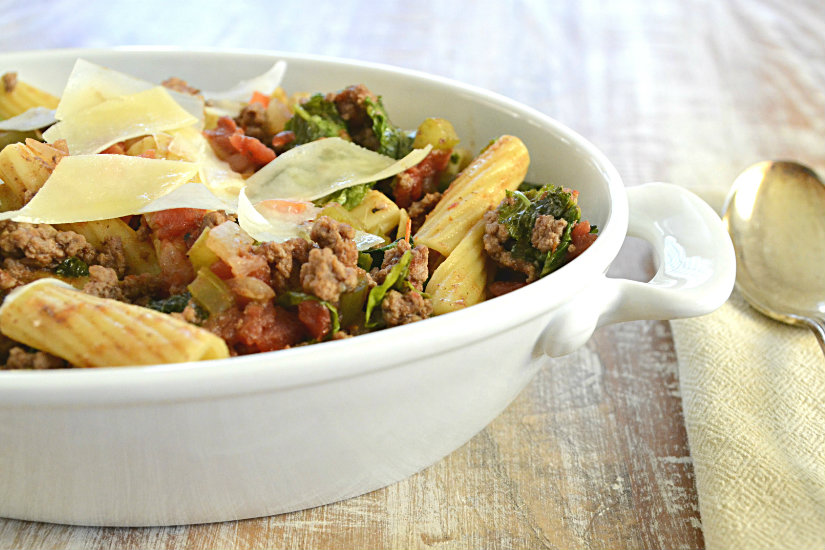 Nothing more comforting than Sunday Pasta and a glass of red wine … for so many reasons. This recipe can provide a one dish meal. Or add a little side salad to complete. Hope you enjoy this easy Sunday Ragù as much as I.
Recipe
2 Tablespoons olive oil
1 Onion-chopped
2 Carrots-peeled and diced
2 Ribs celery-diced
2 Cloves garlic-minced
1 Pound ground beef 85% lean or higher
15 Ounce can petite diced tomatoes
15 Ounce can beef broth
8 Ounce can tomato sauce
1 Tablespoon tomato paste
1/4 Teaspoon garlic salt
1/2 Teaspoon salt
1/2-1 Teaspoon Italian spices
1/4 Teaspoon red pepper flakes
5 Ounces of fresh baby kale or fresh baby spinach with tough stems removed
3/4 Pound rigatoni pasta-cooked with 3 teaspoons salt in boiling water to al dente
Parmesan curls
Sauté over medium heat in the olive oil the onion, carrots and celery until tender.
Add the garlic and continue to sauté for an additional minute or two.
Add the beef a little at a time to the sautéed vegetables. Brown lightly until all pink is gone. Drain off fat.
Add the canned ingredients, tomato paste, salts and spices. Simmer on low for 30 minutes, less if in a hurry.
Layer the fresh greens over the top and place lid. The greens will steam in no time. Stir.
Add the drained cooked pasta to the sauce. Serve.
Easy Beef Ragù with Kale!