Berries Smoothie – Day 3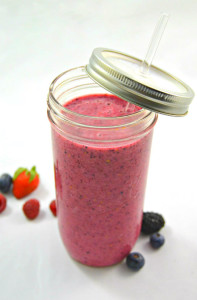 Your choice of berry for this treat! I used my all time favorites, blackberry, blueberry, strawberry and raspberry.
It's no surprise my daughter has chosen a smoothie as a go-to snack. Her food choices very early on were healthy, simple, mostly raw, and always always fresh.
We always remember, too, the importance of an attractive dining experience to enhance every bite … or slurp. What do you think of this glass tumbler! It's BPA free and dishwasher safe. Check out this product themasonbarcompany.com … sold on Etsy. We love new and unique products! Yes, the straw is glass!
First, with this recipe I got so carried away with all the berries … loading up the blender … that my finished product was tart. I love berries, tart or sweet. If you have a preference keep in mind the berries you choose. Raspberries tend to be less sweet. You may wish to add honey to your smoothie or other sweetener.
Recipe
Makes about 16 ounces
1-1 1/2 Cups mixed berries
1 Cup ice cubes
1/4 Cup slightly sweetened almond milk
1/2 cup Raspberry-cranberry juice (Apple juice might be an option for sweeter taste.)
Blend and pour into your favorite glass!