Blackberry Sorbet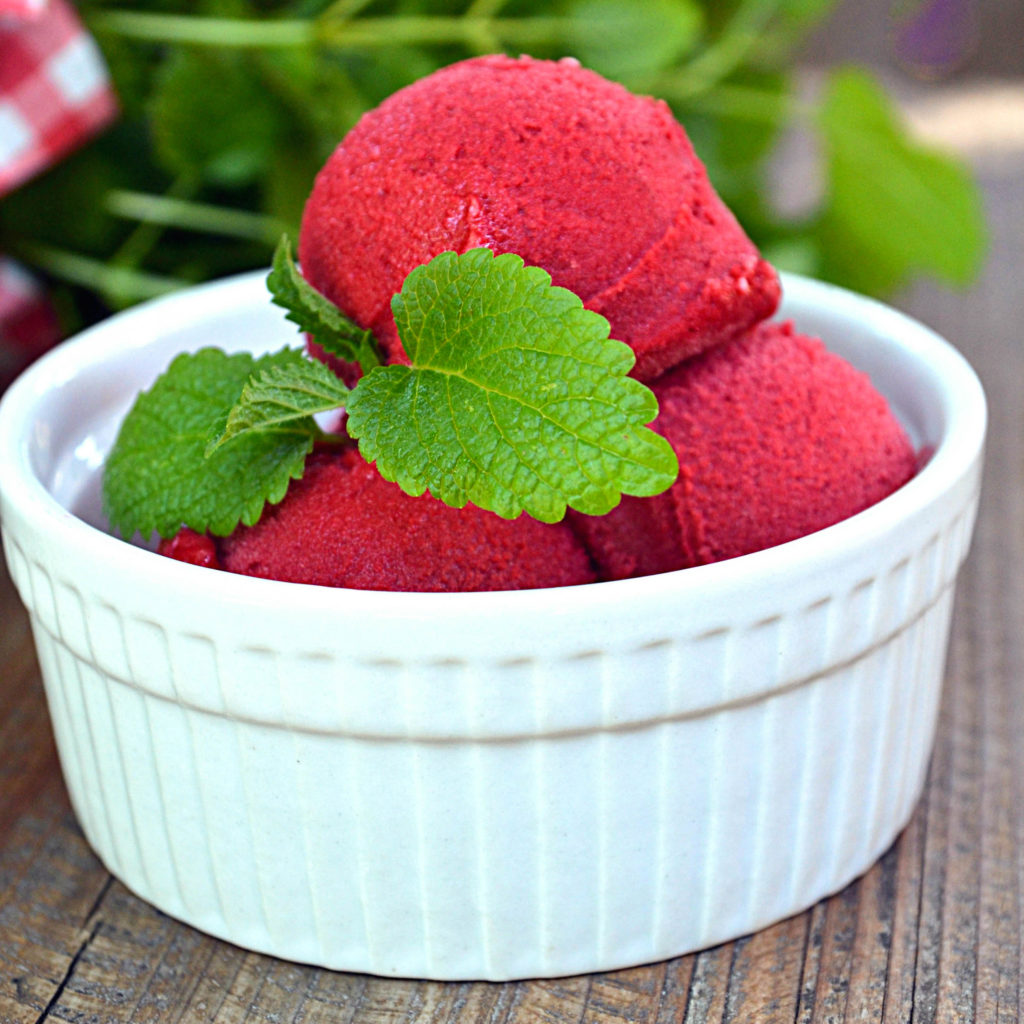 It was a big deal and even a bigger job … making ice cream with a crank style maker when I was a kid. Mom would put together the specifically purchased ingredients while Dad drove off to the ice house for a burlap bag of chunked ice. And hopefully one of them remembered the rock salt. Dad was the only one with the strength to turn the ol' rusty crank and even he had a time. It seemed like hours but I'm sure more like 30 minutes of constant churning before Dad would declare it was done. I miss those days but I can make ice cream so much easier. I use a Cuisinart.
It wasn't until almost noon that we decided we might enjoy a Blackberry Sorbet for dessert. The bowl insert needed freezer time before use. Popped it into the freezer … no ice or salt with this. We'd be ready to rock-n-roll in 6 hours, the time it takes the liquid inside the bowl to freeze solid. Just put together the berry mixture … 4 easy ingredients.
Recipe
1 1/2 Cups water
1/2 Cup sugar
3 Cups blackberries
1/4 Cup fresh lemon juice
Mix together water and sugar in a saucepan over medium/high heat. Stir occasionally to dissolve sugar. Bring to a low boil for about one minute.
Rinse and pick through the berries. Add berries and lemon juice to the sugar/water and bring back to a simmer. Simmer for 5-10 minutes.
Pour the ingredients through a fine stainer over a large bowl. Berries will collect in the stainer and delicious juices will fall to the bowl. Mash the berries with the back of a spoon through the strainer into the bowl. Scape the strainer bottom periodically to make sure all the juices clinging are saved.
Pour juices into insert bowl for Cuisinart or into your ice cream freezer. Process for about 30 minutes. The sorbet will look like soft serve at this point. Place soft serve sorbet into your freezer for about one hour before serving.
The recipe makes not quite one quart of sorbet.
Thank you William Sonoma for your inspiration!