Blueberry Pie Recipe
Fresh blueberries … the choices! Snacking, muffin making, blenderizing … today pie making. Ripe fresh blueberries need little sweetening. In fact, this berry requires so little preparation I've decided to devote more time to the crust just for fun.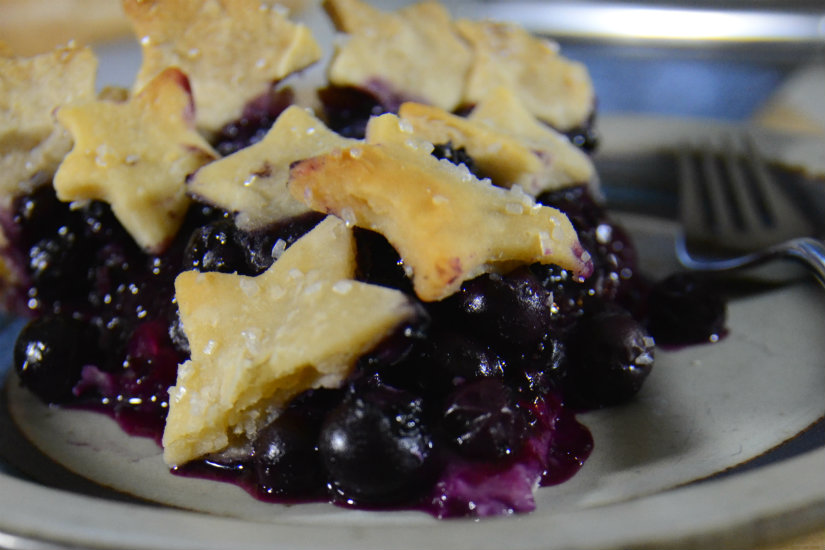 This is an easy recipe. One the whole family will appreciate this Memorial Day Weekend or anytime.
Recipe
Preheat oven to 425 degrees F
Bake pie for 35-45 minutes, until crust is golden brown and the filling is bubbling
Makes one deep dish 8 inch pie OR one regular depth 9 inch pie
Pie Crust
The basic pie crust recipe we find in old cookbooks is really hard to beat. I found I prefer the texture of the vegetable shortening crust most often. I have made the basic with just butter and with certain fillings this works very well. Friends want to know my secret for a good crust. Most are shocked to find it is the basic that is my go-to recipe. What's the secret? Move quickly with crust. It really does better when not over mixed or over worked. It will become tough. My impatience does me well when it comes to pie crusts.
Why vodka? Cook's Illustrated came up with this idea, I believe. I wanted to give it try. Is the vodka crust easier to work with? Is the vodka crust flakier or more tender? First, the recipe I give here is not Cook's Illustrated. I just substituted vodka for half the water used in the traditional basic recipe. And what did I find? This recipe is not any easier to work. And there was a slight increase to the flakiness of the crust. Worth buying vodka to have available for pie crusts? Maybe … can't hurt.
2 Cups all purpose flour and more for the rolling surface
1/3 Cup butter-cold and cut into small pieces
1/3 Cup shortening-cut into small pieces
1/2 Teaspoon salt
3-4 Tablespoons cold water
3-4 Tablespoons vodka-cold
In a large bowl add the flour and salt and whisk to mix. Add the butter and shortening and cut into flour until large crumbs form. Sprinkle the mixture with 3 T cold water and 3 T vodka. Mix. Form a ball of dough with your hands. The dough should easily come together. If it doesn't add the additional tablespoons.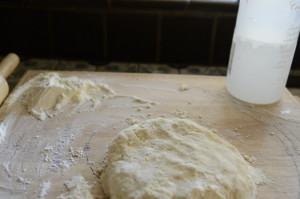 The dough is ready to roll out. Divide the dough into two pieces … 2/3 and 1/3. Roll out the larger piece for the bottom crust. I pretty much can eyeball the size of a crust when rolling it out these days. If you can't turn your pie plate upside down over the rolled out crust. It should be just about an inch larger all the way around. For the deep dish this will need to be increased depending on depth of plate. For my 8 inch deep dish I rolled out the dough as for a 9 inch regular depth pie. Place the crust into your pie plate. Cut off excess and add to your left over 1/3.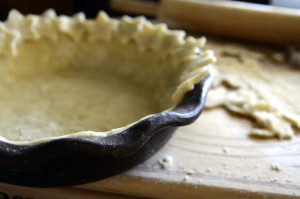 Roll out remaining dough and cut with cookie cutter. With a basting brush lightly damp with water brush the back of the cuttings before placing onto the edge of the crust. Use a little pressure to help the decorative piece adhere. When you have completed decorating the edge of the pie plate cookie cut the remainder of the dough and set aside pieces.
Filling
4 Cups fresh blueberries-rinsed and drained
1/2-2/3 Cup sugar
4 1/2 Tablespoon flour
1/4 Teaspoon salt
1/4 teaspoon cinnamon
1 Tablespoon lemon juice
1 1/2 Tablespoons butter
There is no need to precook this filling. If you are looking for a filling the texture of a canned pie filling this recipe is not the one to use.
In a large bowl add the berries, sprinkle with the sugar and flour and mix. Add the salt, cinnamon and lemon juice and mix. Spoon into prepared piecrust and dot the top of filling with butter.
Place the crust cutouts on top the filling. Sprinkle with decorative sugar-optional.
Bake until filling is bubbling.