A MAN'S BREAKFEAST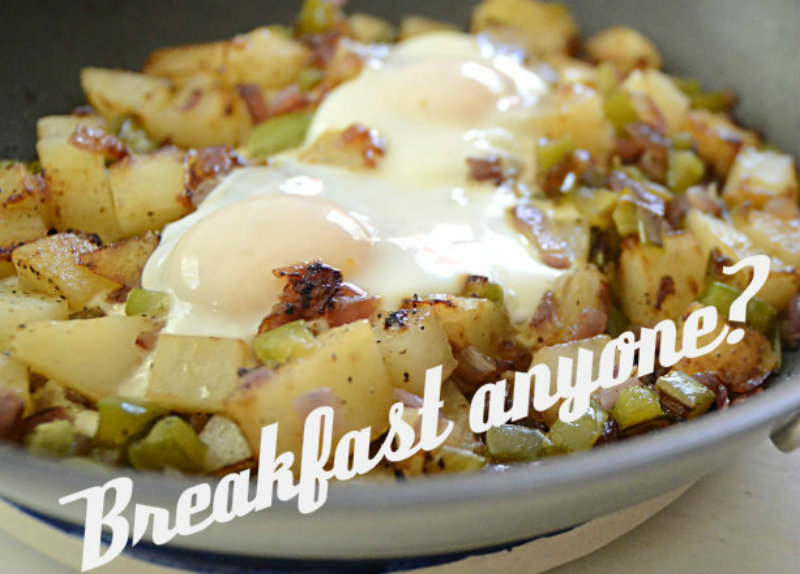 Guys love to cook what they love to eat! At least that's my take. When you have that passion how can it come out any other way than delicious.
Stephen, 2nd of My Three Sons, has put together an amazing one pan breakfast. I just couldn't resist sharing his quick easy spicy one pan breakfast … he and his family love. Hope you love it too!
Recipe
1 Yellow onion-diced
Bacon, ham or spam and chorizo (Your choice on amount of each.)
3-4 Potatoes-peeled and cubed
5-6 Eggs
Raven's All Purpose Seasoning (This seasoning is made by a deli in a small town, Armona, not far from our hometown. They also make some of the best jerky. I haven't used their on-line shopping but here is their link: www.raventurkeyjerky.com)
Salt, if needed, and Pepper
Garlic Salt
1/2 Cup shredded cheese (Your choice, cheddar, jack, colby, mixture of Mexican cheeses)
Layer in your pan the bacon and onions followed by potatoes and cook over medium heat without turning initially, allowing for caramelization of the onions and potatoes. Careful about the heat to avoid burning. When browned on the bottom turn to mix and again avoid turning until the additional side is browned.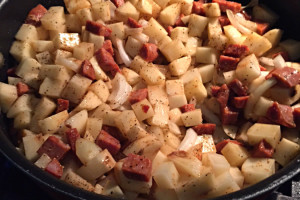 Next add the ham or spam and chorizo. You can use a lid or not. If you do use a lid make sure potatoes are browning to a done state not steaming without caramelizing.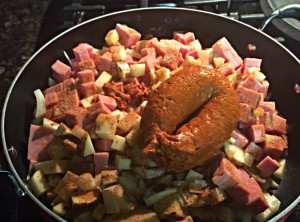 Allow for the chorizo to soften on top and add the spices except garlic salt. When potatoes have caramelized as much as you'd like begin stirring the mixture to incorporate the meats. Beat the eggs by hand and then pour into the mix when potatoes are fork tender through and stir eggs while they cook. Add garlic salt at this time. Sprinkle with cheese and give it all a stir.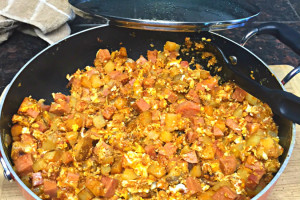 This looks absolutely amazing. Breakfast anyone? Or how about for dinner?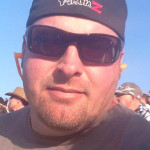 Happy Pre-Birthday Stephen &
Thank you!