Oats, Apples, & Raisins Breakfast Bars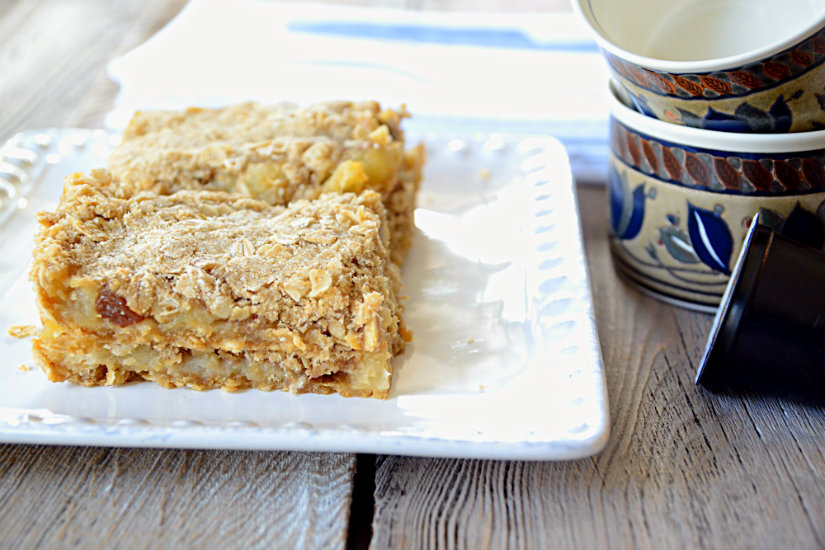 If you like oatmeal, apples and raisins for breakfast you will surely like this! Ah yes, it works as a lite dessert, too. This recipe makes 8 large bars with minimal sugar and a bit of butter for richness. No added sugar to the Granny Smith apples … even my sweet tooth finds it just sweet enough.
Preheat oven to 350 degrees F
Prepare a 8 inch square dish with cooking spray or grease with butter
3/4 Cup rolled oats Or, 1/2 cup rolled oats and 1/4 cup minute oats
3/4 Cup all purpose flour, Or 1/2 cup all purpose and 1/4 cup whole wheat flour
1/3 Cup dark brown sugar-packed
1/4 Cup butter-cold
1/2 Teaspoon salt, Or use generous 1/4 Teaspoon if using salted butter
2 Large Granny Smith apples-core removed, peeled and roughly chopped
1/3 Cup raisins
1/4 Cup chopped nuts-optional
1/8-1/4 Teaspoon ground cinnamon-optional
In a small sauce pan with just enough water to cover the bottom (about 1 T) place the chopped apples. When this simmers turn to very low and cover. The apples will produce more liquid as they cook. Cook for about 3-4 minutes looking occasionally to make sure they are not over cooking. As they produce more liquid remove the cover. Use a potato masher and mash roughly. Leave them chunky but should be tender. This process takes from 5-12 minutes. Remove from heat. The product should not be watery but rather a chunky applesauce. This produces about one cup. You can substitute one cup of chunky applesauce if you like. Note nothing was added to the apples.
In a medium bowl mix the flour, oats, sugar and salt with a whisk. Next cut in butter as you would for a pie dough. For this I cut the butter into smaller pieces and use my hand to mix butter into the dry ingredients.
Use 1/2 the oat/flour/sugar/salt/butter mix, pouring it into your prepared square baking dish. Pat firmly to bottom of the dish. Pour the applesauce over the top of this layer. Sprinkle with raisins. Then cinnamon and nuts if used.
Pour the remaining of the oat/flour/sugar/salt/butter mix over all and pat carefully with moderate pressure to firm up the bar.
Place into the center of the oven and bake for 30-40 minutes until the edges are nicely browned and top is turning golden. Remove from oven and cool at least 10-15 minutes before slicing.
There you go! That simple!