Easy Breakfast Pizza For Brunch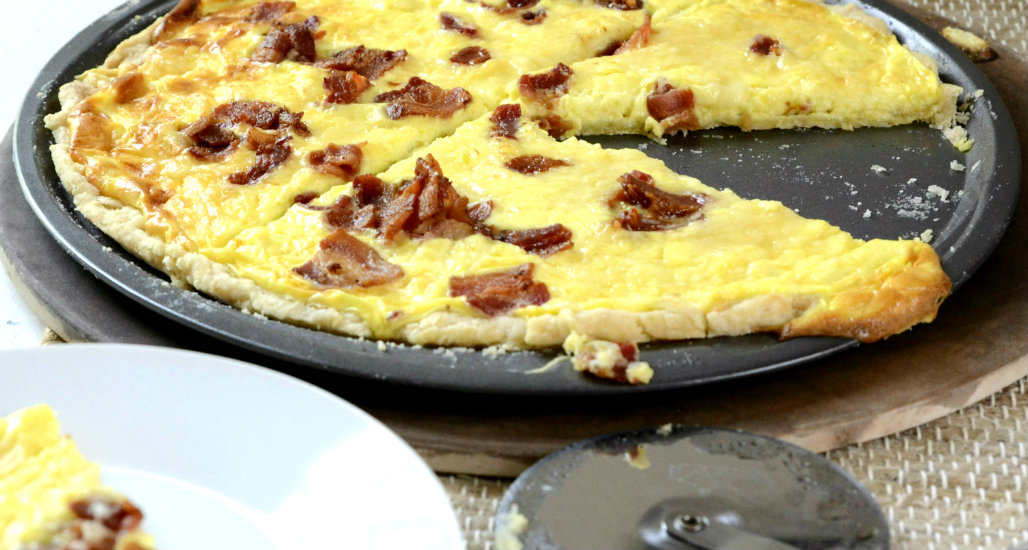 What do you think of my girls now! It's not the cheese … It's the eggs that give this Breakfast Pizza the bright yellow color. Home grown chickens are amazing! So is this pizza! Add your favorite breakfast topping … Bacon, sausage, linguica. Vegetarians know what to do … Spinach, mushrooms, tomatoes. The list is endless!
This is a high protein breakfast everyone will enjoy!
Recipe
Serves 6-8, or if big eaters 4 … And I have big eaters in my family … Austin pushing 6'6″ and still growing! Max pushing 3 feet at 15 months! Must be all our good food!
Preheat oven to 425 degrees F, I suggest a pizza stone to help cook the crust … It can be placed directly under the pizza pan.
9 inch pie crust-need a recipe? Review my French Apple Pie Post!
5 eggs
1 Cup cream cheese, room temperature; or sour cream (This might work with cottage cheese or ricotta.)
Sprinkle of salt
1 1/2-2 Cups shredded Jarlsberg Cheese
1/2 Pound topping-either your favorite breakfast meat, cooked and drained; or a veggie topping
Roll out the crust for a 12 inch pizza pan.
Place into the pan crimping the edges slightly. Prick the crust here and there to avoid bubbling during baking.
Precook the crust (5 minutes or until just beginning to color on edges), placing the pan onto a heated pizza stone. The stone can be eliminated but the value of a pizza stone cannot be undervalued for pie crusts. It helps to prevent soggy crusts.
Cook the breakfast meat, drain; or prepare veggie toppings.
Beat the eggs with the cream cheese, by hand or beater. Sprinkle with salt.
Sprinkle 1/2 the cheese over the pie crust. Add the egg mixture over this.
Sprinkle the remainder of the shredded cheese and toppings over the egg mixture.
Bake until the eggs are set, about 15-20 minutes.
You will be amazed at the puffiness. Gather around with your camera. Sadly, it deflates somewhat, quickly. The taste is amazing!