A Make Ahead Meal For The Holidays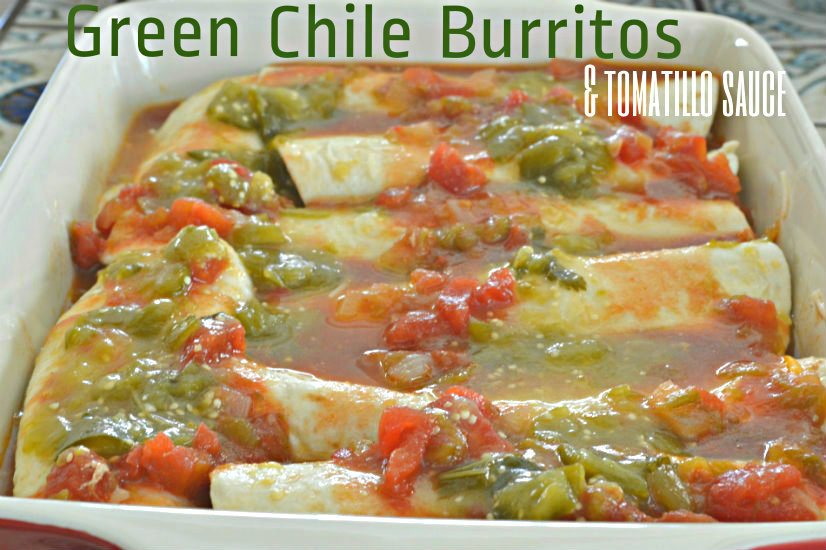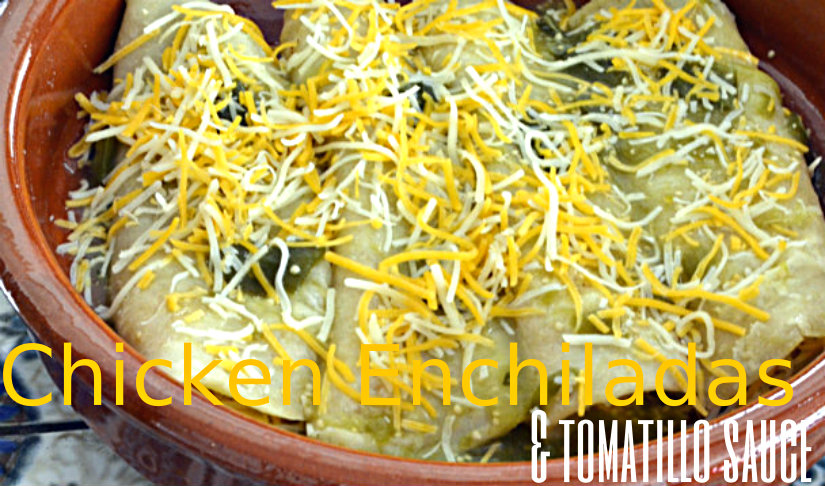 These recipes are great for a brunch or dinner! Do a day ahead and refrigerate. Great with a lettuce wedge. And pair with La Crema Pinot Gris for a complete dinner.
Green Chile Burrito Casserole With Tomatillo Sauce
Serves 6-8 Adults
Bake at 350 degrees F in preheated oven for 20 minutes
If the dish has been refrigerated bake 30 minutes
Two pounds of pork-cubed
Two tablespoons of olive oil
One chopped onion
One clove minced garlic
28 Ounce can of petit cut tomatoes
10 Roasted and peeled Anaheim chiles
One cup water or chicken broth
Salt to taste
One dozen flour tortillas
Two cups of shredded cheese-combination of Mexican cheeses can be purchased already shredded
Four cups of tomatillo sauce-recipe follows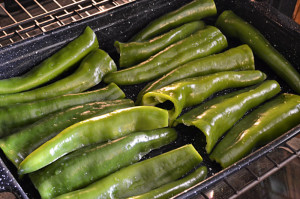 To roast the Anaheim: Clean chiles removing seeds, membrane and stem. Careful not to touch eyes or mouth during the process to avoid burning. Place in roasting pan. Heat broiler for a few minutes on high. Place peppers about 5 inches from heat. Broil for several minutes, 5-10, until the skin is brown. The skin may become black in some areas. This is okay and may create a smokier flavor. Following, cover the warm roasted peppers that have been placed in a bowl. The steam created will make the peeling process easier. Peel.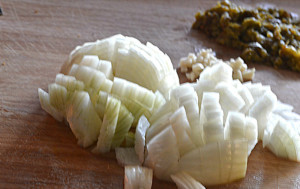 Chopped onion, roasted peppers and mince garlic.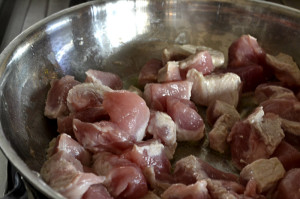 Heat olive oil in skillet over medium heat. Add pork a little at a time to brown.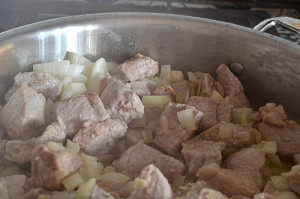 Add onion and garlic and continue browning until the onion is tender.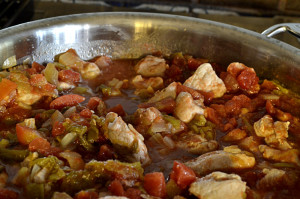 Add chiles, tomatoes and chicken broth. Simmer for an hour. In the meantime, make tomatillo sauce.
Tomatillo Sauce
This sauce recipe will make approximately eight cups. Enough sauce for one dozen enchiladas, 4 cups (recipe to follow) and 10 burritos, 4 cups (recipe above).
Two dozen tomatillos
Six serrano peppers-cleaned and chopped
Three cups of chicken broth
Two tablespoons of cornstarch mixed with 1/3 cup water for thickening
1/4 Cup chopped cilantro, more for garnish
Salt to taste
Creme fraiche, Mexican crema or sour cream for dolloping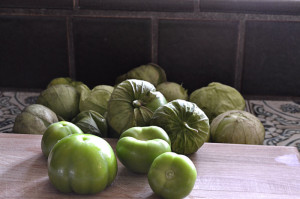 Peel tomatillos.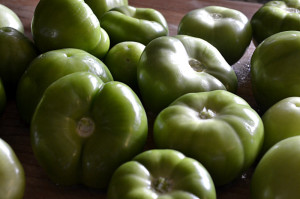 These are absolutely beautiful.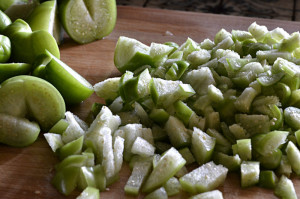 Chopped and ready to cook.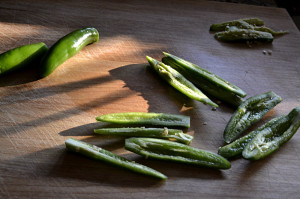 Clean serranos. Wash hands thoroughly to avoid burning. Chop.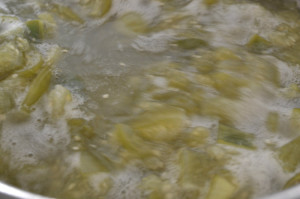 Place tomatillos, peppers and chicken broth into a saucepan and bring to a boil. Turn heat to a simmer and cook for about 8 minutes.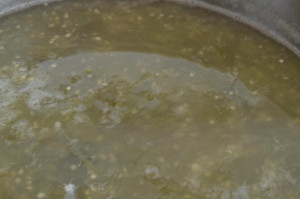 Use a potato masher to crush up tomatillos. This is accomplished easily. The chiles will not break down as easily. Add cilantro. If you desire a smoother sauce let this cool and process through a blender. Then add thickening, mix the corn starch in the water prior to adding to the sauce. Done. How easy was that?
Divide the tomatillo sauce for the two dishes, enchiladas and burritos.
Let's finish the burrito casserole before  moving to the enchiladas.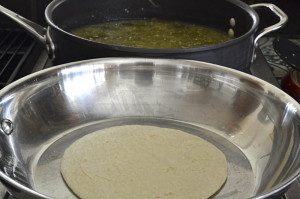 Place tomatillo sauce in a skillet that will accommodate the tortilla. Keep sauce warm on low. Heat additional skillet to warm flour tortilla, no oil. This will make the tortilla easier to roll. Dip the tortilla into the warm sauce. Remove to the baking dish.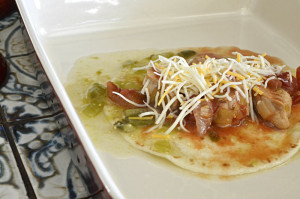 Spread warm tortilla with green chile meat mixture. Add the shredded cheese. Roll the tortilla with seam finishing on the bottom. Continue this process until all burritos are formed.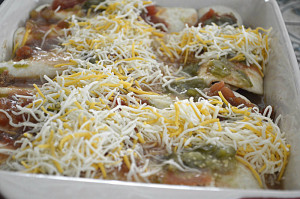 Pour any remaining tomatillo sauce over the burritos and sprinkle with remaining cheese. Bake.
Cheese Enchiladas With Tomatillo Sauce
Serves 6-8 adults
Bake at 350 degree F in a preheated oven for 20 minutes. Add 10 minutes if refrigerated prior baking.
One dozen corn tortillas
One chopped onion-diced, saute' in 1T olive oil
4 Cups of shredded cheese, 1/2 jack and 1/2 cheddar
Oil for heating tortillas
Four cups of tomatillo sauce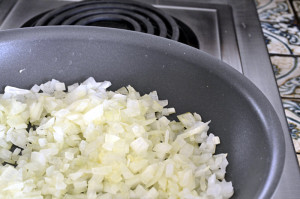 Sauté onion until tender.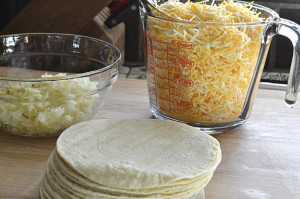 Gather ingredients, cooked onion, cheeses and tortillas.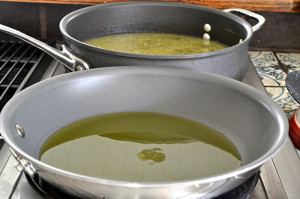 Heat oil over medium heat and sauce over low heat.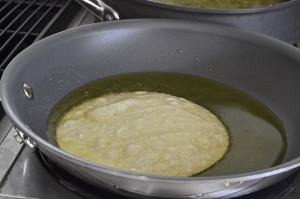 Heat tortilla in oil.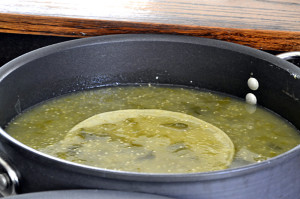 Then dip the oil heated tortilla into the sauce.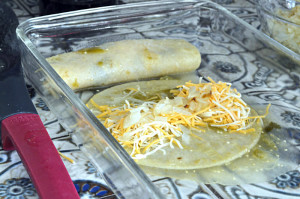 Add 1/4 cup shredded cheese to the tortilla and one teaspoon cooked onion. Fold or roll the tortilla placing the seam down. When all the tortillas are filled pour remaining sauce over the enchiladas and sprinkle with cheese to finish.
Burritos, Enchiladas and Tomatillo Sauce, Love it!