Pozole Verde Soup Portuguese Style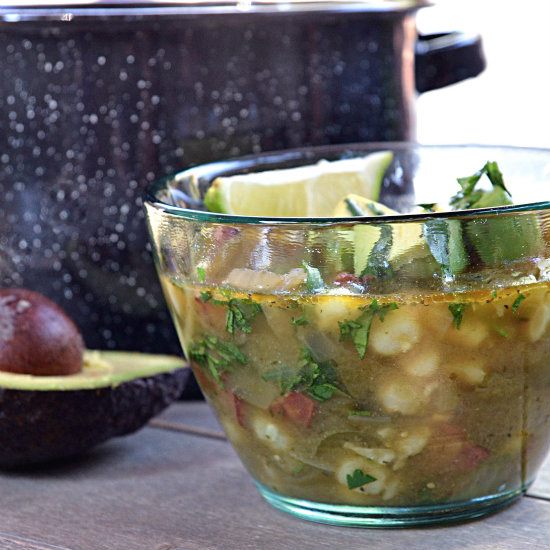 Three bowls later I've decided this is a keeper. My guy friend checking out the local sports bars in Visalia fell for Rookie's Posole Verde Soup. Three days in a row or was it four! His excuse was Fitbit steps as each day around noon off he went walking Main Street. I'm not sure if he topped it off with a draft, his usual reason for stopping at Rookies. But he couldn't say enough about this soup. I decided then and there to create Posole Verde Soup, my style, Portuguese style. Would you believe I'm not the first to use linguica.
Chicken or pork or a combination is most often used for the authentic Mexican style soup or stew. Posole or Pozole means hominy, a main ingredient. And verde is everything green; tomatillos, jalapeños, poblanos, avocado, cilantro and lime.
What fun creating this soup! And yep, I did have three bowls to determine just how much I loved it. The lime adds just what's needed to bring forth the flavors. So, don't skip it!