Sweet and Sour Carrots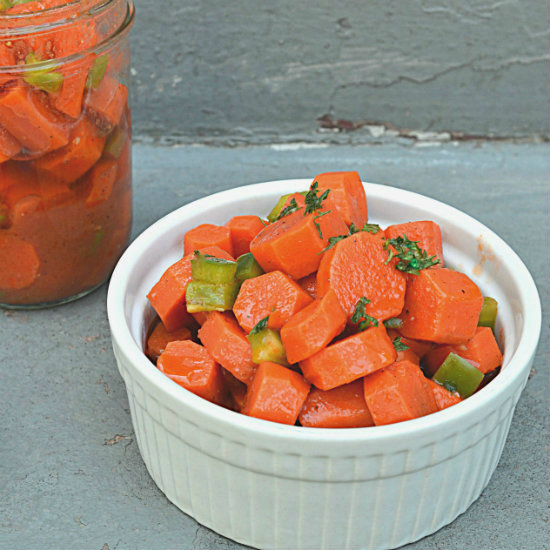 Reminiscent of Mama Tosca's! It was a sad day when I found myself moving to Bakersfield, California … following my husband's job. I was leaving my hometown, the only place I knew, and moving to what was often a joke in the latest Hollywood film. Half the family decided to stay behind and we never quite recovered. I'd been used to 105 temperatures of the summer, one of the biggest complaints about Bakersfield. So, I was already ahead. We settled in quickly and other than the reputation I wasn't quite sure what was negative. As my husband used to say, You always try to make it a good thing. How was I going to do that this time. Well, remember my love is food and food is love! I was going to find the best food in Bakersfield! Right out my backdoor was a brand new restaurant, Mama Tosca's Ristorante Italiano. Nothing like pasta to make a place homey and comfortable. It became our very favorite. Now, I'm back in my hometown after almost 30 years and I never quite understood what was supposed to be negative there. I found many more wonderfully delicious places to eat. Basque Food, oh my, no place better! And one of the local hangouts, Luigi's since 1910 … Meet the Who's Who and there are some! Luigi's could always bring a smile … always packed with people sitting tightly together … and the food! So, if you find yourself traveling through Bakersfield you've got to stop at one of these places. Yep! They're still in business.
One of the dishes brought to your table at Mama Tosca's when you first arrived was marinated carrots. After years of business it is no longer part of their menu. It was my three year old daughter's favorite at this restaurant. I've been trying to duplicate it for years but because of my fading memory (or my palate's) I can't quite get it. Oh, btw it was never sprinkled with parsley (nor bell pepper added) as it is here. My children didn't like "the green stuff." This recipe is again one of my mother's but it doesn't approach the taste of Mama Tosca's. It's good, just different. Surprisingly, the recipe most like Mama's is my French Dressing, here. Yes, it absolutely works Missy. Just for fun check out my daughter, here. She's definitely grown up.