Creamy Cauliflower and Tuna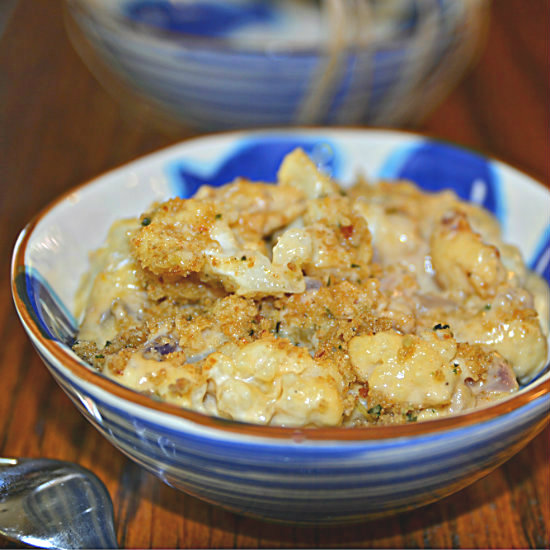 Winter vegetables are making way for Spring. Cauliflower is one of our family favorites, garlicky cheesy cauliflower sides especially.
This is the time of year many friends and acquaintances decide to maintain a meat free diet. So, with that in mind I put together a quick skillet dinner of Creamy Cauliflower and Tuna. The cauliflower is cooked to al dente stovetop. The remainder of ingredients are added and heated. That's it! A leafy green salad and you have dinner.
Recipe
Serves 3 adults
1-2 Tablespoons olive oil
1 small head of cauliflower-core totally removed and tossed, the remainder broken into small florets
2 Large ribs of celery-sliced
1 5-7 Ounce can of tuna-packed in water-Recommendation: Wild Planet-cooked once, stronger taste and non-farmed
1/2 Cup finely diced red onion (or 3-4 scallions-sliced)
1 10 ounce can cream of celery soup-undiluted
1 Cup shredded cheese (more for sprinkling-optional)
1-2 Tablespoons diced pimento-optional
2 Tablespoons mayonnaise
1/4 Teaspoon salt and pepper
1/2 Cup soft bread crumbs toasted stovetop with one tablespoon of butter-optional
Heat the olive oil over medium heat and then add the cauliflower and celery. Sauté to al dente or to your desired tenderness, browning slightly of the cauliflower is desired.
Add all the other ingredients except bread crumbs and heat thoroughly. It's done!
Sprinkle each serving with bread crumbs that have been pan toasted in melted butter.