Chai Meltaways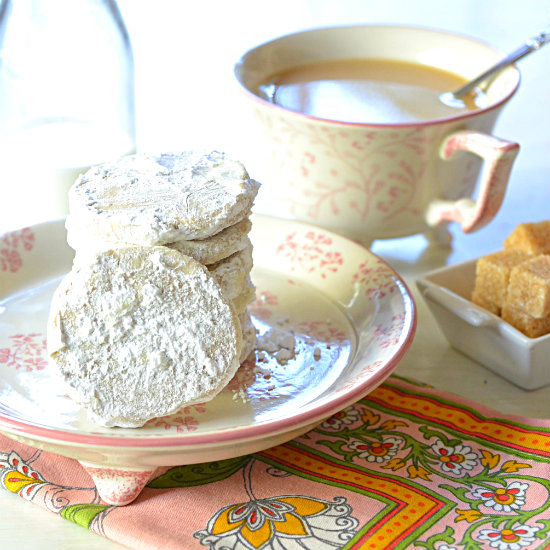 Chai Meltaways says it all! Doesn't that sound like the perfect cookie! It's worth purchasing chai spice (rather than putting it together yourself) simply because the proportion and combination of spices is done for you & it's a lot cheaper than purchasing all the spices you need separately. I've found King Arthur Flour is pretty reasonable with pricing and I trust their products. This has a 5-star rating. Check it out here. This cookie just has an amazing flavor and texture. I can't wait to move on to cakes and muffins with this spice combination.
Recipe
You have time to preheat the oven to 350 degrees F during the few minutes your dough firms in the freezer.
1 3/4 Cup all purpose flour
1/4 Cup cornstarch
1 Tablespoon Chai spice
1/2 Teaspoon salt (3/4 teaspoon if using unsalted butter)
3/4 Cup room temperature butter
1/2 Cup confectioners sugar and more for dusting/rolling
3 Tablespoons milk
! Tablespoon best vanilla extract
Whisk together flour, cornstarch, spice and salt. Set aside.
In a large mixing bowl beat the butter until fluffy.
Add the 1/2 Cup of confectioners to the butter and continue beating until light in color and texture.
Add the milk and vanilla to the butter/sugar mix and beat in well.
Slowly add the dry ingredients to the wet mix and mix thoroughly but no need to beat heavily.
Place the dough onto parchment paper and roll firmly pushing on the ends of the dough to form a uniform roll about 1 1/2 inches in diameter. Place into the freezer for about 10-15 minutes to firm for slicing.
Remove dough when firm and cut into 1/4 inch slices. Place onto a parchment paper covered cookie sheet and bake about 15 minutes. These cookies don't rise or expand much at all. Space about 1/2 inch apart.
Remove the cookies to cool. After a few minutes roll in the extra powdered sugar.
Makes 3 1/2 to 4 dozen.