Chai Spice Almond Biscotti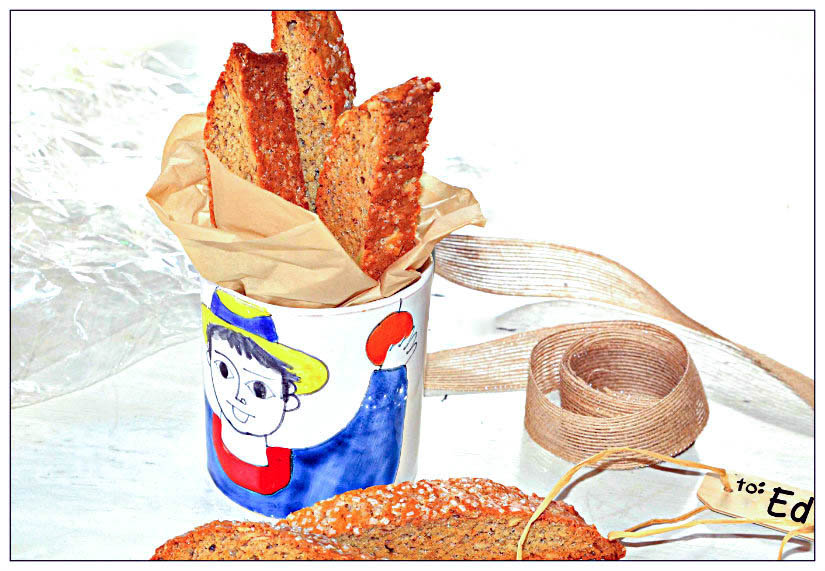 If you're not into biscotti for the same reason I haven't been over the years then you haven't tried these. All biscotti are not equal. This homemade version is so good you'll want to gift a sampler to your special friends … Or maybe not! I had some expert help from Michael Chiarello or at least was influenced by a once baked biscotti cookie recipe of his. But true to the biscotti my recipe is twice baked. Instead of anise seed I used chai spices, here. I just happened to have some gray salt from Chiarello's store (now closed?) in Yountville, California. And if you're looking for crystallized sugar try here.
Recipe
Preheat oven to 350 degrees F
Grease a cookie sheet or use parchment paper to cover the cookie sheet
1 3/4 Cup all purpose flour
3/4 Teaspoon baking powder
3/4 Teaspoon finely ground (gray) sea salt
2 Teaspoons Chai Spices
4 Tablespoons room temperature butter
1/3 Cup crystal sugar (more for sprinkling)
3 Tablespoons dark brown sugar-packed
4 Large eggs
1/2 Cup sliced almonds-lightly toasted in a non stick skillet-then cool
Measure the first four ingredients in a separate bowl and whisk to mix. Set aside.
Beat the butter well then add sugars and mix into butter carefully before turning beater or mixer to medium. The crystal sugar tends to fly out of the bowl if not buried into the butter first. Beat until mixed very well about 4-5 minutes.
Now add 3 eggs to the sugar/butter mixture and beat until fluffy, an additional 2 minutes of mixing.
Add the dry ingredients to the mixture and mix on medium-low until everything is just pulled together. Do not over mix.
Fold in almonds. Scrape ingredients into the center of the bowl.
Oil hands. Now remove the dough with scraper & hands shaping and placing onto your prepared cookie sheet. Make a log about 12 inches in length by 3 inches wide.
Beat the last egg by hand and brush on top of the unbaked dough. Sprinkle the top lightly with the crystal sugar.
Bake in preheated oven about 25-30 minutes until slightly golden and the biscotti log bounces back when touched.
Remove the log from the cookie sheet and cool for a few minutes.
With a serrated knife cut across the log every inch or so. Now place the slices cut side down on your cookie sheet. Close together is okay. Bake these again for about 7-8 minutes. Remove from oven, turn the pieces over and bake again for an additional 7-8 minutes until golden.
Remove from oven and cool.