Our Thanksgiving Challah
With Karen Mordechai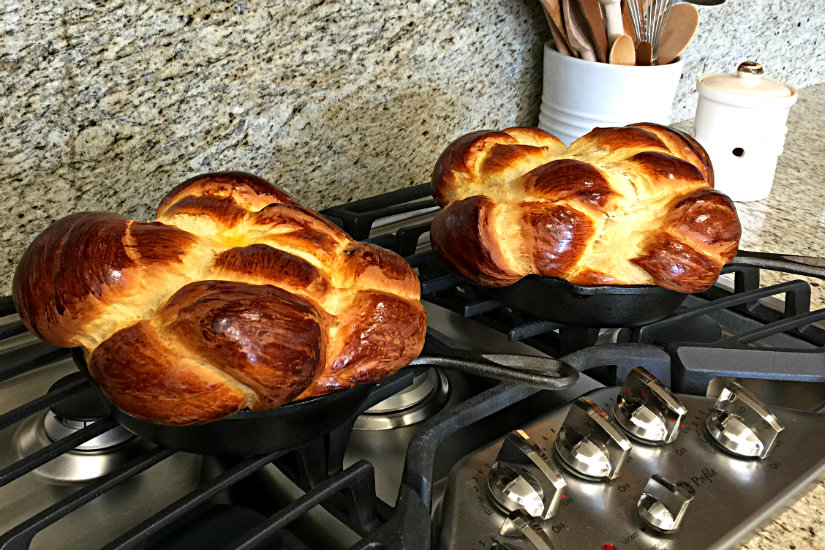 Isn't this beautiful? This is my oldest son's bread baking. I think I mentioned before … He is the perfect bread maker in the family. There is good reason … He is meticulous, doesn't mind tedious and is detailed to a fault. That sounds like my accountant! Yep, he's a CPA too. You can even see all these traits at work when visiting his kitchen here. Will has been making challah for our holidays for years. He is always searching for new recipes. How in the world do you improve on perfection! When he arrived yesterday with these in hand everyone pulled out their iPhone to get a shot. Seriously! We must give credit for the recipe to Karen Mordechai. She has a lovely new book, Sunday Suppers: Recipes + Gatherings. Will used her Challah recipe, changing the ingredients a bit but keeping the recipe instructions pretty much the same. Her recipe has become a quick favorite and definitely gives challah an amazing new look.
Recipe
Makes 2 round loaves
3 Tablespoons of active dry yeast
3/4 Cup sugar + 1 1/2 Tablespoon (Will substituted honey at exactly the same measurement)
2 1/2 Cups warm water (110 degrees F) (Because of the honey you may need less water or a little more flour.)
10 Cups all purpose flour, plus extra for dusting
3/4 Cup vegetable oil (Will used olive oil.)
1 Tablespoon salt 2 Eggs, one whole and one separated
1 Teaspoon water
Nonstick cooking spray
In a small bowl dissolve the dry yeast and 1 1/2 tablespoon of honey in 2 cups of warm water. Cover and set aside for 10 minutes.
In a stand mixer with a dough hook (or in a pinch by hand), combine the flour, remaining honey, olive oil, salt, whole egg, egg white and yeast mixture. Mix on low speed. Check for stickiness. Knead for 5 minutes.
Add the additional water at this time … checking dough for stickiness. Add less water if sticky.
Place dough in an oiled bowl, cover it, and let rise in a warm place for about one hour or until doubled in size. Punch down and let it rise again for about 30 minutes.
Grease two 8 inch cast iron pans and set aside.
Place dough onto floured surface and divide into 8 equal pieces.
Form into 12 inch strands. See photos below for the braid.Move right to left. Take the strand underneath and cross over the next strand … moving in a circular fashion. Tuck loose ends under and place each in cast iron pans.
Wash the top of each with the egg yolk mixed with a teaspoon of water.
Let rise again in a warm place for one hour, uncovered. Bake at 350 degrees F for 35-45 minutes.