Another family recipe
Cheese Enchiladas and Beans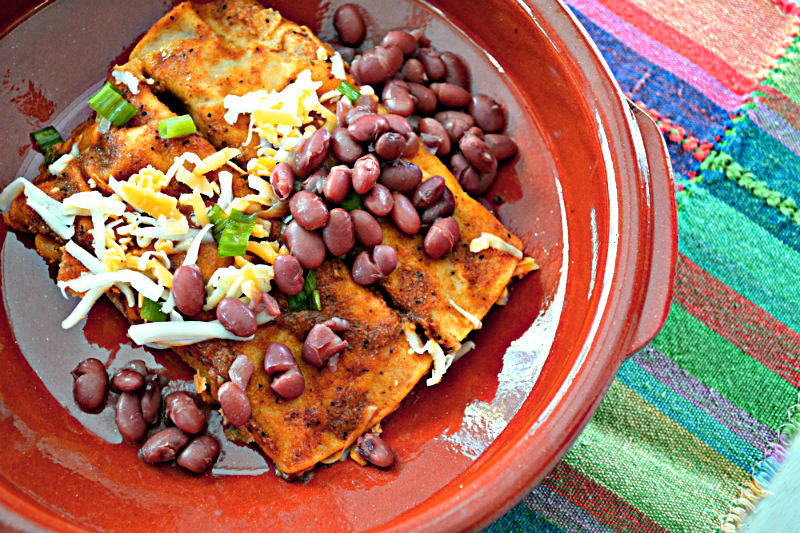 My first taste of enchilada came early. Estrada's Spanish Kitchen was a family owned restaurant in Visalia established long before my parents were born. It was fine dining … Frequented for forty some odd years by our family.
The old Victorian house on Main Street was a business on the first floor and a family home on the second. It was our family's favorite place to eat especially Christmas Eve … Forty six years in a row according to my brother. As a kid it seemed to take forever for the food to be served. I amused myself when very young … touching the sides of our table's enormous wax covered wine bottle that was providing more temptation than candle light … seeing coins embedded in the wax … digging…. It was hard to resist. And I was disciplined each visit. My brother, more self disciplined, just explored the upstairs bathroom, the only one available. But I bet he was really looking for Susie.
I have tried to recreate the tastes of Estrada's dishes without much success. A friend married into this restaurant family not too long ago, and had mentioned the recipes were definitely a family secret. Yes, I asked. He said, I could give you the recipes but then I would have to kill you. Of course he was kidding! Do I have to even say that? There were about a half dozen of these Estrada's restaurants throughout California owned by the same family. Only one now exists … Daly City. I want to check it out. Maybe I can talk my brother into meeting me there.
In my teens, mother, every few months, would form an assembly line of hot vegetable oil, heated canned enchilada sauce, corn tortillas, cheese and onion. She and I would make two dozen enchiladas, some to be eaten and some to be frozen. We used Velveeta cheese … Considered a healthy alternative to cheese in those days. I am not sure what it is considered today. Spell check doesn't even recognize this product.
For this dish, I will be using a quick sauce recipe I picked up from a former neighbor about 40 years ago. I was shocked at the time to find enchilada sauce got the red color from peppers not tomatoes. Labeling was yet to reach today's sophistication.
recipe
Makes 12 enchiladas
sauce
1/4 Cup chili powder–Mexican chili powder if you can find it. Otherwise look for a chili powder with similar ingredients: Paprika, Cumin, Cayenne Pepper, Garlic, Oregano and Black Pepper
1/4 Cup all purpose flour
3-4 Tablespoons light olive oil
2 to 3 Cups of water
Salt to taste–for me a good teaspoon
Make sauce first. Mix the first three ingredients in a medium size pan, large enough to accommodate a tortilla. Bring these three ingredients to a slightly bubbly mixture over medium heat. Slowly add two cups of water and continue to stir mixture until it comes to a slight boil. Turn heat to a simmer and allow the sauce to thicken. Add more fluid as needed to thin the sauce enough to slide off the tortilla. Remember the salt. As you continue with the enchilada making the sauce may get thicker. Add water as you need.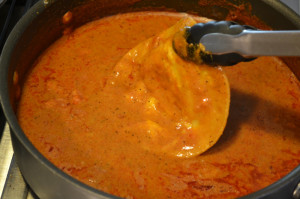 Next assemble the following ingredients:
4 Cups of grated cheese. Use a combination of Monterey Jack, Cheddar, and Queso Quesadilla.
12 Corn tortillas made without animal fats. Not the very small tortillas.
1 Bunch of green onions–sliced thin
Light olive oil or vegetable oil to provide layer of oil in medium size pan.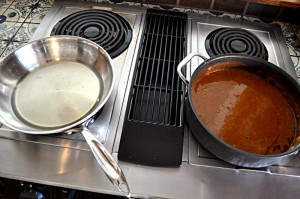 This shows the depth of the oil needed.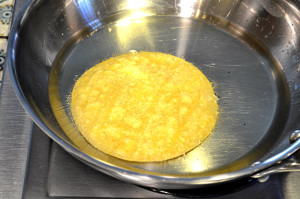 STEP 1: Heat tortilla over medium heat in hot oil turning once. Tortilla is to be soft not crisp.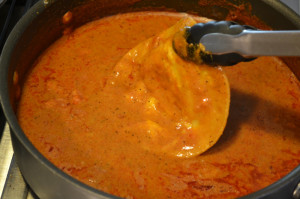 STEP 2: Put heated tortilla into the sauce and drench both sides.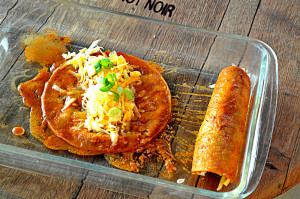 STEP 3: Remove tortilla from sauce and place into baking dish to be used. Place approximately 1/3 cup grated cheese and one to two teaspoons of onions into the middle of the tortilla and roll. Continue the process until all 12 tortillas have been filled. Cover each enchilada with a tablespoon or two of sauce depending on amount remaining. Heat enchiladas in a preheated oven of 350 degrees F until the cheese melts, 20-30 minutes. Sprinkle with cheese and onions. Add beans if desired from recipe following.
Recipe for beans:
1 Pound dry pink beans
1 Medium yellow or white onion–chopped
1 Large clove of garlic–minced
3 Tablespoons of light olive oil
2 Teaspoons sea salt or salt to taste
Pick through beans and then rinse thoroughly. Soak the night before or not. Typically I do not soak.
Saute the onion in the olive oil over medium heat until tender. Use the same pot that will be used for the beans. A lid will be needed.
Add garlic and continue cooking for one minute until garlic is tender but not brown.
Add dry beans and cover well with water. If the beans were not soaked they will need much more water. Watch during the cooking for need.
Cover and bring beans to a simmer and allow to simmer until tender. If not soaked this could take 3-4 hours.
Add one to two teaspoons of sea salt when beans are almost done.
Layer warm beans over heated enchiladas. Enjoy!