Cheeseburger Soup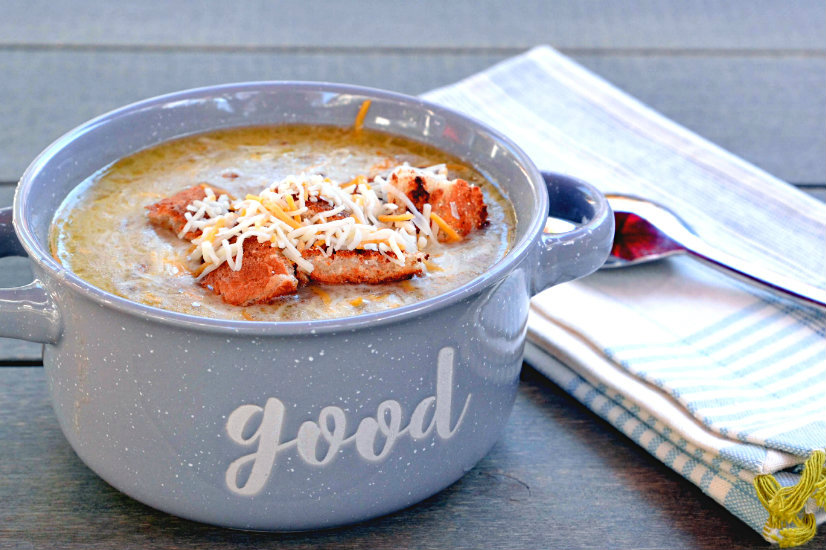 This is an incredibly simple soup recipe. You may have all the ingredients to make it right now. I say step it up a bit and serve with a brioche hamburger bun on the side. The next time you are craving a cheesy cheeseburger give this a try.
If you're into hamburger soups here is another delicious one!
Recipe
1 Tablespoon butter
1 Cup finely diced onion
1 Minced garlic clove
4 Tablespoons all purpose flour
1 Pound ground beef-cooked separately and drained of excess fat, suggest 85% lean
Salt and Pepper
4 Cups low salt chicken broth
1/2 Teaspoon dry mustard
1 Large (baked potato size) russet potato, peeled & cubed
2 1/2 Cups shredded cheese, Monterey Jack & Cheddar combination
Croutons (optional)
Optional: add finely chopped tomato (suggest plum tomatoes-seeds and pulp removed) or freshly cooked bacon (crumbled). Either or both are to be added at the end of cooking.
In a medium sized skillet over medium heat cook (add salt & pepper as you go) and lightly brown ground beef, breaking into small pieces in the skillet. When done, drain and set aside.
Melt butter in a medium-large saucepan. Add onion and cook until translucent but not browned. Add garlic in the last minute.
Add flour to saucepan with onion/garlic butter and stir immediately to avoid clumping. Cook until bubbly. Gradually add in broth, stirring as you go. Add potatoes and dry mustard. Simmer until potatoes are done.
Mash the potatoes with a masher to provide further thickness to the soup.
Now add cheeses to soup saving enough for garnish. Stir until well incorporated. Now add beef. Simmer until thoroughly heated. Add bacon and tomatoes if using. Taste for need of salt and pepper. I added an additional 1/2 teaspoon salt.