Chick Pea Pasta e Fagioli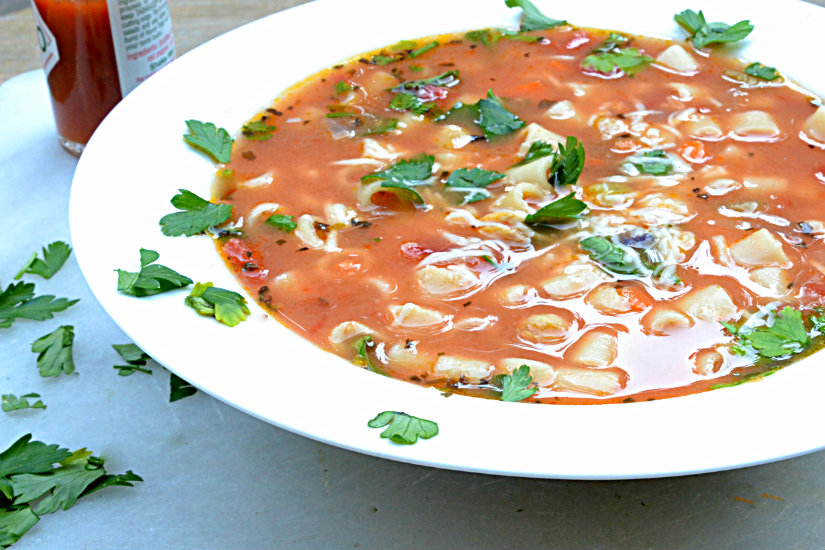 Light, quick, vegetarian easy … Spicy Chick Pea Pasta e Fagioli. Use vegetable broth or stock for a true vegan experience or add chicken broth if you prefer this taste.
Recipe
Tablespoon of olive oil
1 medium onion-diced
1 Stalk celery-diced
1 Large carrot-diced
1 15 Ounce can chick peas-drained
1 15 Ounce can chopped tomatoes-petite cut
4 Cups vegetable broth (or chicken broth) more for thinner soup
1/2-3/4 Teaspoon mixed Italian spices or 1/2 teaspoon dried basil
1/2-1 Cup dry ditalini pasta-cook separately according to directions-drain
Salt and Pepper to taste
Tabasco sauce is served on the side
Grated Parmesan-optional
Chopped parsley for color
Sauté onion, celery and carrot in the olive oil over medium heat.
Add the remaining ingredients and heat for 10-15 minutes. A bay leave can be added for additional flavor.
Salt and pepper to taste.
Serve with sprinkles of Parmesan if desired. Chopped parsley for color.