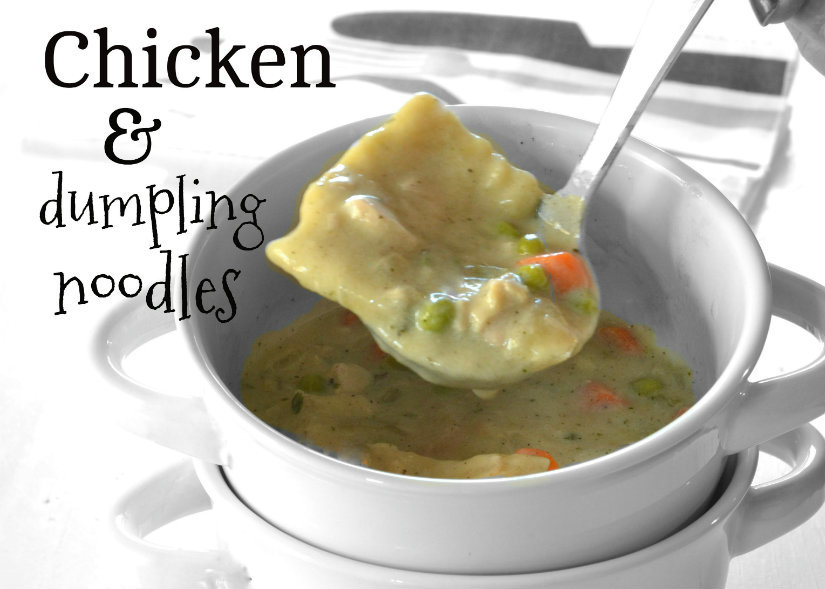 Looks like a noodle but don't let it fool you. Positively a dumpling. A different take on Chicken with Dumplings worth trying. Herb, parsley-sage-rosemary-thyme, rich 'gravy,' with loads of chicken and dumpling noodles in every bite. A winter-time dinner to warm you.
Recipe
1 Tablespoon butter and 1 tablespoon light tasting olive oil
Large yellow onion-small diced
2 Ribs of celery-small diced
4 Medium-sized carrots-sliced 1/4″ thick, avoid using the large end to provide more uniform slices for even cooking
*1 Scant teaspoon dried Parsley
*1 Teaspoon Poultry Seasoning (this may also have marjoram and possibly pepper)
2 Tablespoons all purpose flour
1/2 Cup white wine, such as Sauvignon Blanc
32 Ounces chicken broth
1 Tablespoon white wine vinegar, or white vinegar or red wine vinegar in a pinch
1 1/2 Cups half cream and half milk
3 Cups cooked chicken in bite size pieces
1/2 Cup frozen peas
Salt and pepper to taste
* Or 1 Teaspoon each minced fresh parsley, sage, rosemary, thyme
In a large dutch oven (must be large enough to add dumpling noodles at the end) over medium heat add the butter and oil. Next add the onion, celery and carrots and sauté until fork tender.
Sprinkle the onion/celery/carrots with the herbs and the flour and stir to mix well.
Add the wine and bring the ingredients to a simmer. Add the vinegar and broth. Stir. Bring to a simmer.
Add the half and half and bring to a low simmer. Remove 2/3 cup of the broth/milk mixture and set aside.
Now add the chicken and peas and bring to a simmer.
Add one dumpling noodle at a time to the rich simmer hot broth. Avoid layering the noodles on top of each other.
Cover and cook dumplings until no longer doughy, about 20-25 minutes.
Dumpling Noodles
1 Egg
2 Cups all purpose flour, more for rolling surface
1 Teaspoon salt
1/2 Teaspoon baking powder
2/3 Cup broth mixture
In a large bowl add the dry ingredients and whisk together to mix. Make a small well in the top of the dry ingredients for the egg.
Add the egg and slowing pour the broth and whisk at the same time to avoid cooking the egg.
Pull the dough together and place on a floured surface to roll out. Avoid over working the dough.
Roll out at approximately 1/8 inch thickness. Cut the dough with a pizza wheel into 1 1/2 inch strips and then across into 4-5 inch lengths. Leave the noodles with a dusting of flour.
Add to steamy broth to produce the best results.
Enjoy!