Chicken & Noodle Bake
Chicken Macaroni Cheese Bake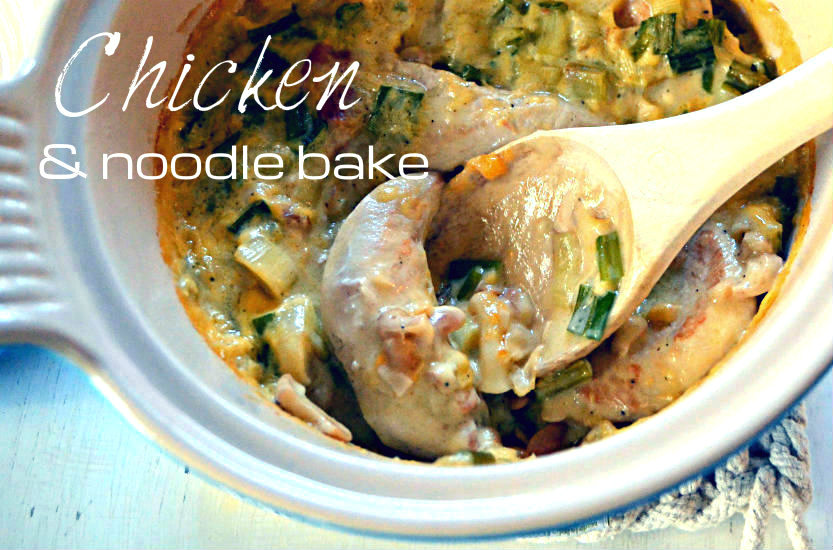 A hearty recipe for a quick and easy family meal. Only six ingredients, 15 minute prep, bake and it's done. Add a side salad or vegetable and dinner is served. This will become one of your favorite Comfort Food recipes for the cold months ahead.
Recipe
Preheat oven to 350 degrees F
I Tablespoon butter or olive oil
1 Pound skinless and boneless thinly sliced chicken breasts
4 Green onions-thinly sliced
1 Cup uncooked elbow macaroni-cook until al dente
! Cup shredded Cheddar cheese
3/4 Cup water
1 Can Cream of Chicken Soup-undiluted
1/2 Cup roughly chopped cashews (optional)
Salt and pepper
Heat a medium skillet over medium heat. Add the butter or oil or combination. Quickly sear the chicken browning on both sides. Just a minute or two. Salt and Pepper. Add the white portion of the sliced green onions during this process. Remove chicken and set aside.The chicken may not be cooked through at this point, and this is preferred.
Cook the macaroni in salted water per package directions until al dente. Drain and add to a lightly buttered casserole. Sprinkle with the cheese.
Add the 3/4 cup water to the skillet used to brown the chicken. (Onions sautéed with chicken will be contained in this skillet along with any drippings.) Stir over medium heat until simmers. Loosen any drippings. Add the soup to the skillet and heat through. Add the remaining onions.
Layer the chicken over the cheese and macaroni. Salt and Pepper again as desired.
Sprinkle the chicken with cashews, optional. (Cashews have a bad rap because they are high in calories but they are an excellent source of minerals and high in iron.)
Pour skillet heated mixture over all and bake uncovered for 30 minutes.
It's ready!