Parmesan Chicken Breasts Baked With Pasta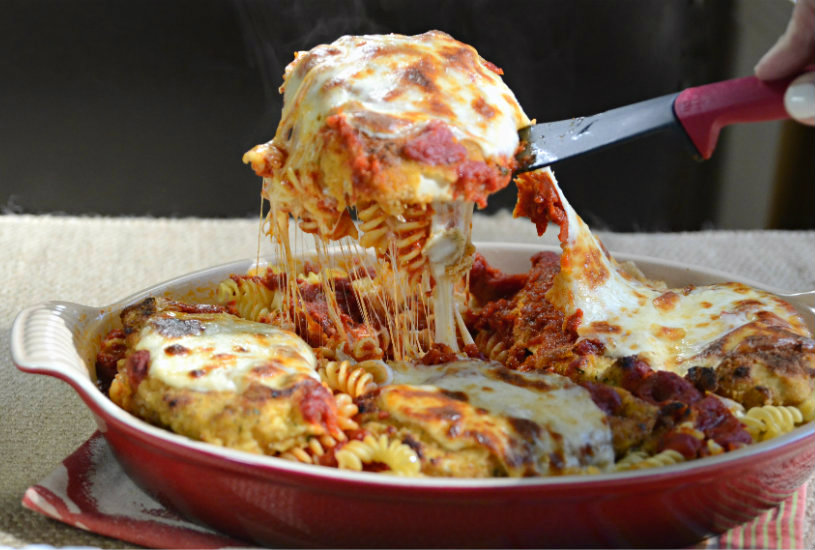 This is so delicious! Can you tell? Here's the story about this recipe. This is actually my recipe for Eggplant Parmesan. So, if you happen upon this page and are vegetarian just substitute one large sliced eggplant (with moisture removed) for the chicken. Veal? I can't.
Remember my Italian food critic from my previous Italian cuisine posts? Just to refresh … 15 years of testing these recipes. This is his fav Eggplant Parmesan recipe. And it converts perfectly to chicken … on a bed of pasta.
Recipe
Serves 6
Bake in a preheated oven at 350 degrees F for 20-25 minutes. For eggplant, until bubbling.
For a little color to the mozzarella topping after the baking place under broiler for seconds to a minute.
2 Pounds boneless skinless chicken breasts-pound out if necessary to inch thickness
Olive oil for precooking chicken
3 eggs-hand beaten
1 Cup all purpose flour
1 Cup seasoned fine Italian bread crumbs
4 Cups Marinara-there are some very nice quality jarred sauces if you are in a hurry
(Click on this link for homemade pasta sauce recipes on my blog, How to Make Spaghetti Sauce)
1 Pound fusilli pasta-cooked to almost al dente, about 6 minutes if 9 minutes is al dente
1 Pound mozzarella, sliced
1/4 Cup Parmesan and more for sprinkling
Italian Parsley-optional for garnish
Rinse (or not) your chicken. Pat chicken dry.
Set up three bowls. One with flour, one with eggs and the third with bread crumbs.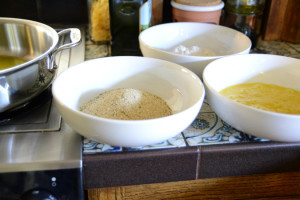 Next pour enough oil into your skillet to have a depth of about 1/4 inch. Heat oil over medium heat until reaches a very warm but not extreme heat.
Dip the chicken breasts first into the flour, then beaten eggs and last the bread crumbs. Place into the skillet and brown each side nicely.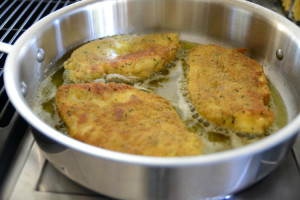 Cook the pasta per directions except remove from heat and drain just prior to al dente.
Remove the chicken after browning. Drain. It will finish cooking in the oven. Chicken breasts cook quickly especially at this thickness.
Now layer into a large baking dish. Grease or cooking spray your dish. Begin with a cup an half of marinara on the bottom. Over the sauce layer drained almost al dente cooked pasta. Place 1/2 the sliced mozzarella cheese over the pasta. Sprinkle the 1/4 cup of grated parmesan cheese over all. Now pour another cup of sauce over the cheeses. Next single layer the browned chicken over the top. Pour the remaining sauce over all. Top with the remaining mozzarella slices.
And Bake!
Sooo Delicious! Serve with more parmesan and a sprinkle of Italian parsley.