Chicken Chile Enchiladas
Quick Fix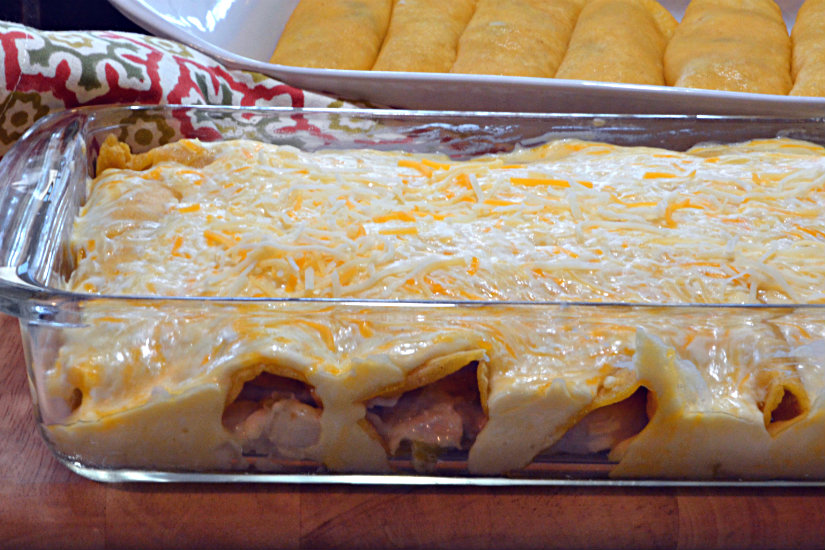 Rich creamy filling and sauce stirred up in minutes without cooking. Fill the tortillas, spread with sauce and bake for 40 minutes at 325 degrees F. Ready to eat! Yes, we do those homemade sauces too but this is for that quick meal. It's so good you may replace your simmered sauce recipe with this one permanently.
Recipe
Makes 20-24 enchiladas
Preheat oven to 325 degrees F.
2 Pounds cooked (and cut into small cubes) chicken breast (You may purchased cooked chicken or broil skinless and boneless breasts at 425 degrees for 40 minutes. Let rest 10 minutes before cutting. If you cook the breasts, drizzle with olive oil, dot with butter, sprinkle with garlic powder, salt, pepper and premixed Mexican spices.)
Cooking oil for heating tortillas
20-24 Corn tortillas
1 Small onion finely diced
1/2 Can Cream of Celery Soup-not reconstituted
1/3 Cup sour cream
1 7 ounce Can Ortega green chiles-diced
1 Pound grated jack cheese
Mix these five ingredients and add the cooked chicken. Mix thoroughly.
Heat the tortillas in the cooking oil that has been heated over high but not red burner heat. Cooking about 30 seconds per side. Cook long enough to be slightly firm but can still be rolled without breaking. Avoid just softening the tortilla where it tears easily.
Fill each warm tortilla with about 2-3 heaping tablespoons of filling. Roll tortilla over surrounding the filling with seam down and place into a baking dish. You'll need several baking dishes for this recipe.
After all the tortillas are filled and placed into a baking dish mix up the following:
1 Cup sour cream
1 Can of Cream of Chicken Soup-not reconstituted
1 Pound of grated mixed Mexican cheeses
Spread this over the top of the enchiladas and bake.