Chicken Chili Soup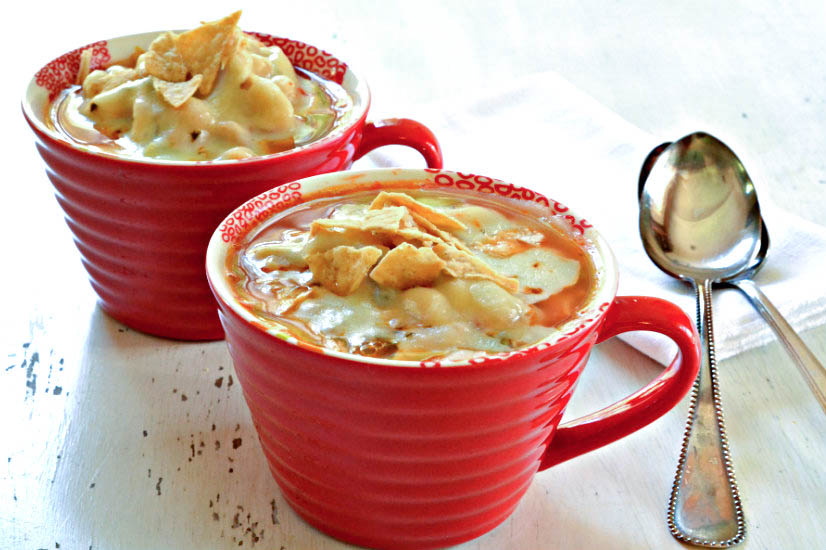 Melissa has been kind enough to share recipes in the past and here's another. Melissa is my colorist, friend, and a perfectionist. So anything she shares with me I know will be delicious. We share common ethnicity and our love of Portuguese food. She loves linguica as much as I and gave me a quick pea soup recipe with linguica I'll be posting soon too.
Forgive me Melissa if I tweak this a bit. If you are a true Portuguese cook you use your hands as measuring utensils and taste for correction.  It's perfect!
Recipe
! Tablespoon olive oil
1 Medium yellow onion-diced
1 Clove of garlic-minced
4 Cups of cooked chicken or a whole deboned (skin removed) rotisserie chicken-pull into bite size pieces
4 Cups of chicken broth
3 Cans of cannellini beans-drained (approximately 15 ounce each) 5 cans can be used for more of a chili bean dish.
16 Ounce jar Pace Salsa-choose your heat here
4 Ounce can chopped fire roasted green chiles-can be changed up to add more heat by using jalapeño chiles.
Heaping 1/2 teaspoon cumin
Salt to taste
Sliced pepper jack cheese-one slice per serving
Tortilla chips for garnish
In a medium-large dutch oven or your favorite soup pot (This soup tends to grow.) sauté the onion in olive oil over medium heat until translucent. Add the garlic and the chicken at the same time, and continue cooking for a few minutes giving the chicken a bit of flavor from the onions and garlic.
Add the next six ingredients which includes the salt to taste. Simmer. This recipe is completed very quickly but I find letting it simmer for 45 minutes produces a tastier version. Yes, this is a crock pot capable recipe.
Serve hot with a slice of jack cheese over the top and crushed tortillas chips for garnish.
Thank you Melissa! I haven't shared with you my grandmother's Portuguese Bean Soup. Know you'd love it!