Chicken Divan Pie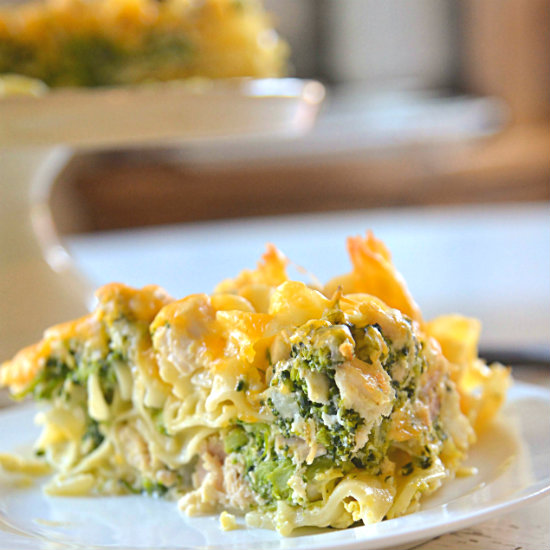 What do you do when you have leftover cooked chicken and an overabundance of broccoli? You make this delicious pie. And because it was a pasta Sunday I added egg noodles. Absolutely delicious. We'll be making this one again soon. Change up the pasta, add turkey or tuna instead of chicken and substitute cottage cheese for ricotta. I guarantee this recipe will work with substitutions. This is a great make ahead meal that can easily be frozen after baking for another day.
Recipe
Preheat oven to 375 degrees F.
Butter lightly a 9 inch springform pan. This recipe may leak through slightly to the bottom of your oven … so, cover the outside bottom of the pan with foil.
4 Cups fresh broccoli florets-no larger than one inch pieces
1 Tablespoon olive oil
1 Medium sweet yellow onion-diced
5 Ounces uncooked egg noodles or pasta
2 Cups diced cooked chicken
2 Eggs
1/2 Cup shredded Parmesan cheese
1 Cup ricotta
1 Cup chicken broth
1/2 Teaspoon salt
Freshly ground pepper to taste
2 Cups shredded cheddar cheese
Blanch the broccoli up to one minute (keep the color) in boiling water, drain and set aside.
Heat the olive oil in a skillet over medium heat and add onion to sauté until translucent. You can add a little garlic (1 clove minced) if you like in the last minute of the sauté. Remove from heat and set aside.
Cook egg noodles or pasta to al dente. Cook in heavily salted boiling water, 1 tablespoon. Drain and set aside.
In a large mixing bowl mix all the ingredients except for the cheddar cheese. Pour into a springform pan and level across the top.
Sprinkle the cheddar cheese over the top evenly.
Place into the preheated oven and bake for 30 minutes or until done. Ingredients should not look wet.
Remove from oven. Remove the form/siding. Slide onto a plate and cut into pie slices.