Chicken Fettuccine Peas Mushrooms Tomatoes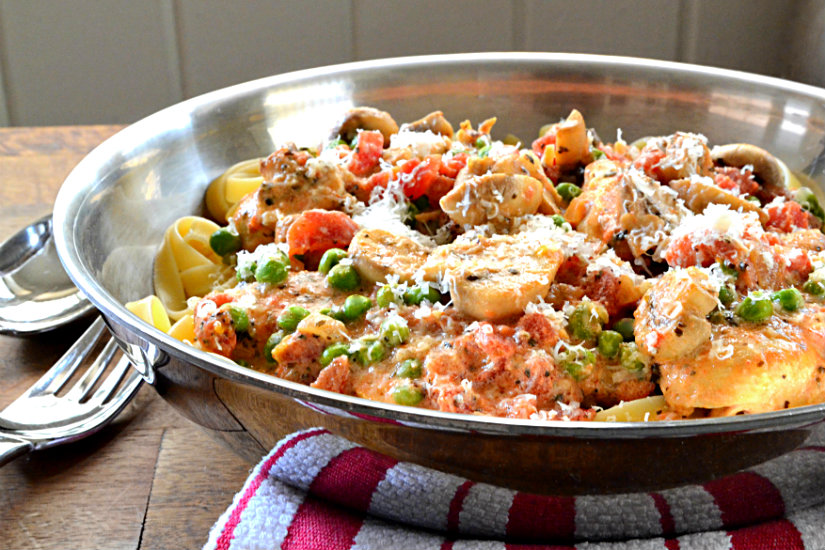 Did I mention I never grow tired of Italian! Any Italian recipe with pasta is my friend, especially with a splash of wine … The wine either in the recipe or my glass … I'm not picky. (Not sure my kids would agree with the not picky.)
This recipe takes about 30 minutes start to finish and presents well for company. I always lean toward Pinot Noir but a glass of Chardonnay is a compliment as well … And Chianti Classico.
Enjoy!
Recipe
Serves 4 Adults
2 Tablespoons olive oil
1 1/2 Pounds of boneless skinless chicken breasts
1/3 Cup diced shallot
1-2 Garlic cloves-diced
Sprinkle of Italian spices-I use a mill with a mixture of rosemary, red pepper, black pepper, garlic, sea salt
15 Ounce can tomatoes-petite cut-drain slightly
2 Teaspoons dried basil or generous 1/4 cup torn fresh basil
3/4 Cup heavy cream-I add the egg yolks to the cream and mix before adding to other ingredients
2 Egg yolks-hand beaten
1 Cup grated Parmesan (more for sprinkling)
2-3 Cups sliced crimini mushrooms-brown, white, Italian, baby bell-your choice
1 Tablespoon butter
Pinch of garlic salt (optional)
1 Cup of frozen peas
Salt and Pepper to taste
8 Ounces fettuccine cooked according to package directions
Heat the oil over medium heat in a medium skillet and add the chicken breasts to brown. Sprinkle breasts with Italian spices during the browning process. After a few minutes add the shallot and garlic. Continue to brown the chicken but avoid burning the shallot and garlic. Total time about 5-8 minutes. If your chicken is very thinly sliced already it could be nearly cooked through by this time.
Add the tomatoes, drained, to the skillet along with the basil. Cover the skillet and simmer low for about 5 minutes. Remove the chicken from the skillet (if it needs cutting into smaller pieces) and let cool slightly while adding the cream, egg yolks and cheese to the tomato mixture. Mix well. If your chicken is not thinly sliced nor in serving pieces, cut into pieces after cooled for about 5 minutes. Now return the chicken to the mixture. Simmer very low heat with the lid slightly cracked.
Cook the pasta about half-way through the sauce preparation.
In a small skillet add the butter over medium heat and sauté the mushrooms. This step can be eliminated but I prefer this step. Sprinkle with a little garlic salt, optional.
Run cold water over the peas if they are just from the freezer. Drain.
Add both and mushrooms and peas to the chicken sauce and heat through. It's done. If your mushrooms have not been sautéed you may wish to cook just a bit longer. Not too long … the chicken is plenty done by this time.
Enjoy!