Chicken Involtini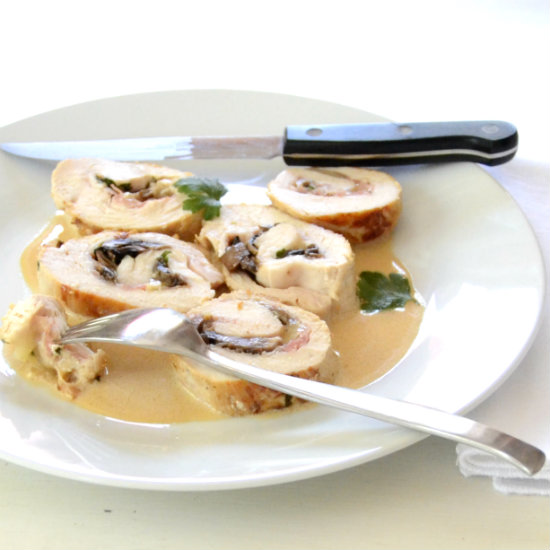 Involtini are slices of stuffed meat. Involtini may be called braciole in the US. Differences? I'm not sure there are any. This easy impressive dish is wonderful for family and friends. If you have chicken you may have all ingredients needed for this recipe because this dish has a list of optional stuffings … from sausage to prosciutto or pancetta to mild white cheeses to herbs, rosemary, sage, parsley, or basil, to pine nuts or capers, to vegetables, spinach or roasted red bell peppers even bread crumbs.
Change it up and you have a different chicken dish each time.
Serve this with a cream sauce or red sauce or no sauce at all!
Recipe
4-5 thin slices of chicken breast-skinless and boneless (about one pound)-if they are not 1/4 inch thick but thicker place between waxed paper or parchment paper and use a rolling pin and roll or pound out
4-5 slices of pancetta
4-5 slices of mozzarella or other mild white cheese
2-3 tablespoons of butter
8 Ounces sliced mushrooms
1/4 Cup chopped parsley
1 large garlic clove-minced
1/2 Cup white wine
1 Cup chicken broth
1/3 Cup Heavy Cream
Toothpicks or string
Salt to taste-you may not need any if you use salted butter, salted broth, salt cured meat
Layer the pancetta and cheese over each piece of chicken. Then sprinkle each with the parsley and garlic.
In a skillet large enough to cook all the chicken sauté the mushrooms in 1 tablespoon of butter over medium heat. Remove the mushrooms and layer over the parsley and garlic on the chicken.
Roll each chicken breast starting with narrowest length toward narrowest length (one end will be pointed, begin rolling with this) Toothpick or tie to hold.
Melt the remaining butter in the skillet used for the mushrooms. Brown the chicken for about ten minutes turning to brown all sides.
Add the wine after browning and scrape the skillet to remove browning particles. Cook until it is almost gone. Then add the broth. Simmer about ten minutes. This will evaporate and thicken. This cooking is done while the chicken remains in the skillet.
After the simmering add the heavy cream and cook without boiling for about 5 minutes or more. During this last step you can remove the chicken to add the cream and cook until the sauce has thickened. Then add the chicken back.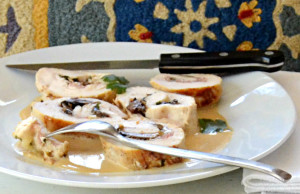 Delicious! Enjoy!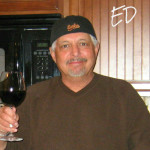 Thanks for suggesting this dish!