Chicken Scallopini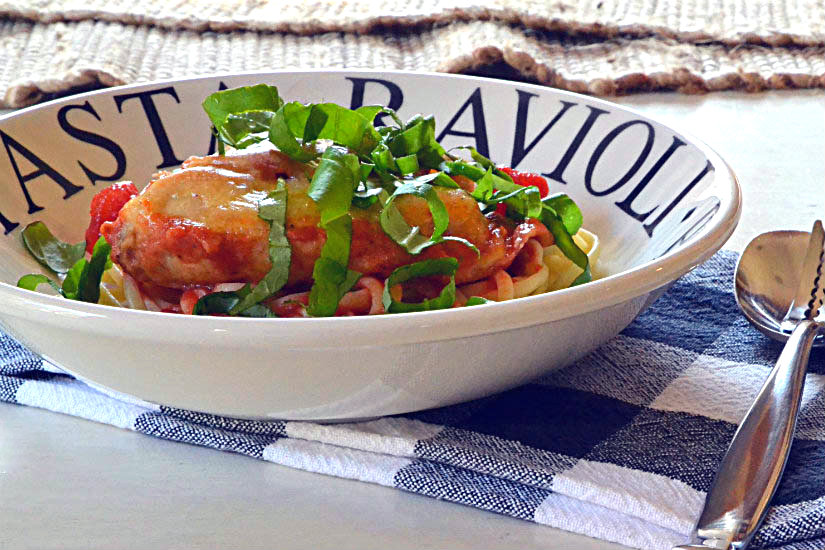 It was a special someone's birthday! And he loves Italian Food … and Italian wines! Well, maybe all wine. What's wrong with that?! He'd say.
Here's a recipe that not only is Italian but incorporates that precious juice. The alcohol burns off but the deglazing it creates makes this dish irresistible.
Recipe
Preheat oven to 350 degrees F.
Recipe serves 4 hungry adults or 6 not so hungry.
3 Skinless and boneless chicken breast halves (about 2 pounds)-cut each piece on the bias (diagonal slice) into two approximately equal weighted pieces. Place the pieces on top your cutting surface/counter and cover with plastic wrap, paper wrap or parchment paper. Pound with a mallet until each piece is flattened evenly to about 1/2 inch or less.
2 Tablespoons butter
2-3 Tablespoons olive oil
4 Cloves (large) of garlic-minced
3 Ounces thinly sliced prosciutto
1/4 Cup all purpose flour for dipping chicken (add a little salt and pepper to flour … keep in mind the prosciutto and cheese will add salt.
3/4 Cup white wine
3/4 Cup chunky tomato sauce (Roma tomatoes, best)
1 Cup chicken broth
6 Thin slices of mild tasting provolone, or fontina cheese or gouda
Heat butter and oil over medium/low heat in a large skillet. Add the garlic and sauté until garlic is tender but not turning brown. Remove the garlic and save. Turn heat to medium to medium high for chicken.
Wrap each piece of chicken with a slice of prosciutto-press to help adhere. Drench each piece of prosciutto wrapped chicken into the flour, all sides. Shake gently to remove excess. Place into the hot skillet used for the garlic.
Brown slightly both sides of the chicken. 3 minutes per side approximately.
Remove the chicken, set aside, and add the wine. Loosen the bits of cooked chicken and flour. Keep heat to the wine until it's almost evaporated. Reduce heat to medium or lower. Add the cooked garlic and tomato sauce to the skillet. Bring to a simmer. Add the broth. Bring to a simmer.
Add the sauce to an ovenproof dish large enough to singularly layer the chicken. Layer the chicken over the sauce. Place a slice of cheese atop each piece of chicken. Cover and bake for 20 minutes or until cheese has melted.
Serve over linguini. Sprinkle with chopped basil or Italian parsley.
Manga!