Chicken Soup Recipe For Gloomy Days
Our weather today was a bit gloomy … time for Chicken Soup. This soup is Portuguese cuisine influenced … Really meant for rabbit. Yep, I've been informed hare was on the family menu. My brother couldn't bring himself to eat rabbit … And if I did, it was purely not knowing. My brother and I were fond of these animals but not for dinner.
We hope you will enjoy this recipe for chicken soup. It can easily convert to a vegan recipe. It has so many delicious full of flavor vegetables! And beans too!
Recipe
6 Generous Servings
1/4 Cup olive oil, more as needed
3 Pounds of chicken-use a whole chicken-cut up, or pieces … In a hurry? Use skinless and boneless pieces
1 Cup white beans-presoak the night before to speed up cooking process (if not presoaked-recipe has further directions)
4 Medium carrots-peeled and sliced, quartered if large toward the top
3 Red potatoes-scrubbed and cubed
1 Turnip-remove tops and discard, peel and cube, you can put the washed tops into the soup if you desire
1 Onion-chopped
1 Clove garlic-minced
1 Leek-washed thoroughly and sliced thin, remove the dark green tops and discard
1 Large Bok Choy, I used two small-they looked fresher (kale can be subbed)- wash and coarsely chop
6 Ounces mushrooms-white button or small portobello, washed, if larger than button cut in half or quarter if needed
1/2 Cup dry white wine
8 Cups of water or combination of broth and water
1 Large bay leaf
2 Teaspoons salt
Pepper to taste
Mint for garnish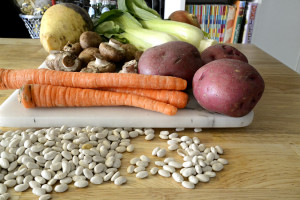 Like your soup thick? Add cornstarch-2 Tablespoons dissolved thoroughly in one cup room temperature water. Add at the end of cooking. Stirring as you add to avoid lumping.
Are the beans presoaked? If not, cooking will increase by approximately one and a half hours. Nothing in this recipe requires this much cooking time. And in fact, this could potentially dry out your chicken. So, begin this about two hours before other steps. In a small separate pot sauté chopped onion in a tablespoon of olive oil over medium heat (or sauté onion with 2 slices of cut up bacon-optional). Add the garlic and sauté for an additional minute. Add the rinsed non-soaked beans. From the recipe measured water add enough water to cover the beans with several inches of water. Cover the pot and simmer for one and a half hours. You can add the cubed turnip to this. Turnips take some time to cook and can provide thickening if cooked until they fall apart. Watch beans to avoid boiling away water. The beans may not be fully cooked after this time but can finish cooking in the soup. No need to season during this initial cooking process.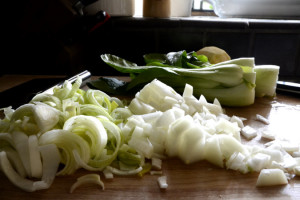 In a large stock pot add one tablespoon of oil and sauté the onion, leek and carrots over medium heat until slightly tender with some color. Add the garlic to the sauté toward the end of this. (Onion and Garlic? This is assuming you have presoaked the beans and are not going with the precook method noted above.) Add mushrooms and continue with the sautéing for several minutes. Remove pot from heat.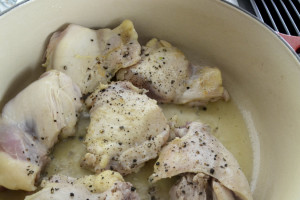 In a skillet add the remainder of the oil, more as needed, heat over medium heat. Add the chicken pieces and cook for 10 minutes until the outside is a light brown. Salt and pepper during the cooking process. Remove the chicken to a dish to drain and cool. The chicken will not be cooked through.
To the sautéed vegetables in the stock pot add the water, wine, potatoes, salt and pepper and bay leaf. If the beans have been soaked overnight, drain and add now along with the cubed turnip. OR add the beans that have been cooking in a separate pot … Be sure to add the beans with the water and scrape all ingredients into the large stock pot.
While the stock pot is simmering remove the skin and bone from the partially cooked chicken. If the pieces of chicken are excessively large pull or cut into large bite size pieces. Place into the simmering stock pot. Simmer now for 40 minutes. Check ingredients for doneness. Continue cooking as needed. In the last 10 minutes of cooking add the bok choy. Check for salt and pepper need.
Garnish each soup bowl with a piece of mint. And enjoy!