Chiffon Upside Down Cake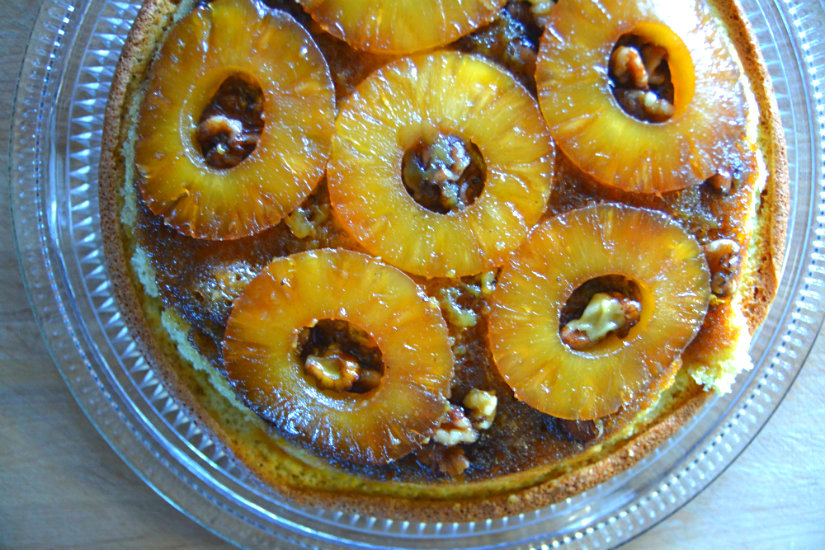 From Mother's recipe tin. A great little cake for a quick dessert fix. You probably have all the ingredients in your pantry. No pineapple? Then just add your favorite nuts to the top. I skipped the maraschino cherries you often see.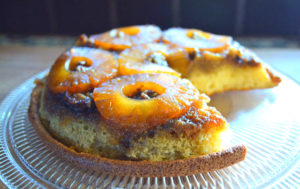 Amazing texture and moistness! Baked in an 8 inch cast iron pan, not recommended … the reason for the overflow edge around the cake. A 9 inch cast iron pan is recommended for the best results.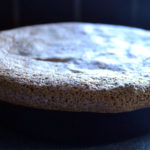 Recipe
Preheat oven to 350 degrees F.
1/2 Cup butter
1 Cup brown sugar
Large can of pineapple slices in juice-save 1/2 cup of juice (you will have extra slices)
1/2 Cup nuts of your choice-mine was walnuts (optional)
Maraschino cherries, about 6-8 (optional)
3 Eggs-separated
1 Cup granulated sugar
1/2 Teaspoon best vanilla
1 Cup all purpose flour
1 Teaspoon baking powder
1/2 Scant teaspoon salt
Melt butter in 9 inch cast iron frying pan over medium/low heat. Turn off heat. Add brown sugar and stir until blended and melted into butter. Layer the pineapple over the butter/sugar mix. Add cherries if using-placing into the center of the pineapple slices. Now sprinkle with chopped nuts if using. Or use walnut halves in the center of the pineapple slices in place of the cherries. Set aside.
Beat egg whites in separate bowl as you would for a simple meringue … stiff but moist. Set aside. Start with egg whites and clean betters.
Next in a large mixing bowl beat egg yolks until foamy and light. Add the granulated sugar and beat with egg yolks thoroughly. Beat in vanilla.
Measure the flour, baking powder and salt. Whisk these dry ingredients to mix.
To the egg yolk/sugar mix add the flour and pineapple juice, alternating and mixing on low/medium speed with mixer. Mix until just incorporated. Now fold in egg whites.
Pour batter over the pineapple/brown sugar/butter in fry pan. Place into preheated oven.
Bake for 30 minutes. Or until toothpick when placed near center comes out clean.
Remove from oven and let rest for 3-5  minutes. If your cake has a lip like mine did (baked over the edge of the pan) gently and carefully loosen a bit with your fingers … keep fingers off pan … ouch!
Place your cake plate (one that can tolerate heat) over the top of the fry pan. Hold fry pan with hot mitt and the cake plate with the other hand pressing against the top of the fry pan and flip the cake over onto the cake plate as you place it onto a flat surface. It is one quick movement over a large clear countertop. If you feel uneasy about this process simply flip the fry pan over onto the cake plate that is resting on the counter. Gently wiggle the fry pan to loosen the cake. You will see if it is sticking. Be patient as you wiggle … it will loosen. Remove the fry pan. See warm or cool.