Chile Colorado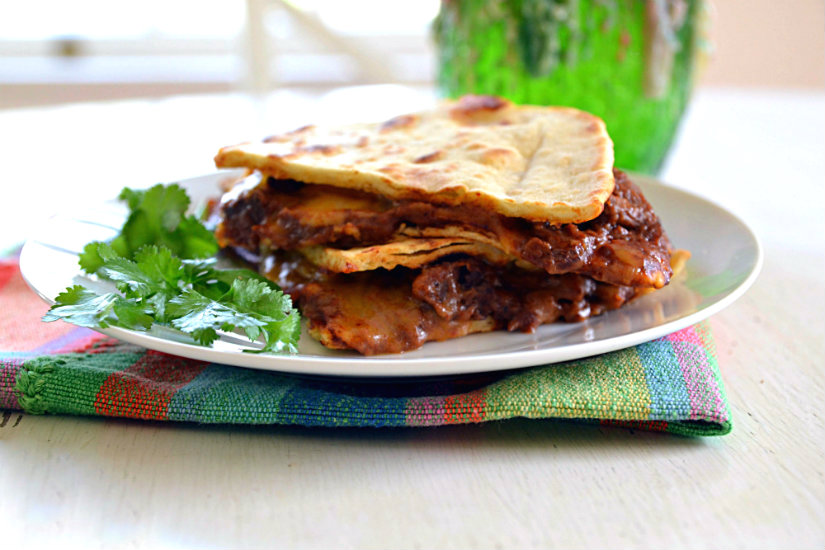 Earthy beefy Chile Colorado! Thinking quickly I turned the last little bit in the serving dish into this quesadilla. That's what I get … attempting to do a food photo while everyone is eating. Wait! Two slices of flat bread hot off the skillet, slathered with Chile Colorado, sprinkled with cheese and slapped together. Beyond expectations. Luckily I got in a couple of snapshots before this too was gone.
Check out my Red Chile Sauce here. You'll need two cups for this recipe. It's worth doing from scratch.
Recipe
2 Tablespoons corn oil or other vegetable oil
1 medium onion-diced
1 1/2 to 2 pounds stew meat
Flour for dusting meat
Salt and Pepper to taste
1 Cup beef both (a little more if needed for the larger amount of meat)
2 Cups red sauce (use my recipe for the right amount of spice or your favorite enchilada sauce, canned in a pinch)
2 Whole bay leaves
Heat oil over medium/high heat in a large skillet. (Use a skillet that has a fitted lid. You'll be using it later.)
Dust meat in flour and shake off excess. Place meat without crowding (a little at a time) into the heated oil in the skillet.
Brown the meat on all sides and salt and pepper as you go.
Add the onion after meat is pretty well browned (turn heat down if necessary to avoid burning) and continue cooking until onion is turning lightly golden.
Add the red sauce, broth, and bay leaves. Meat should be just covered by the liquid. Use a smaller skillet if needed. You can crowd the ingredients during this part of the cooking.
Cover the skillet and turn the heat to low low. The ingredients should just simmer not boil vigorously. Cook until meat pulls apart easily about 1 1/2 to 2 hours, longer if necessary.
Serve over white rice or Spanish rice on the side. Tortillas or flat bread are a must.