Enjoy With Ann's Salsa, Next Post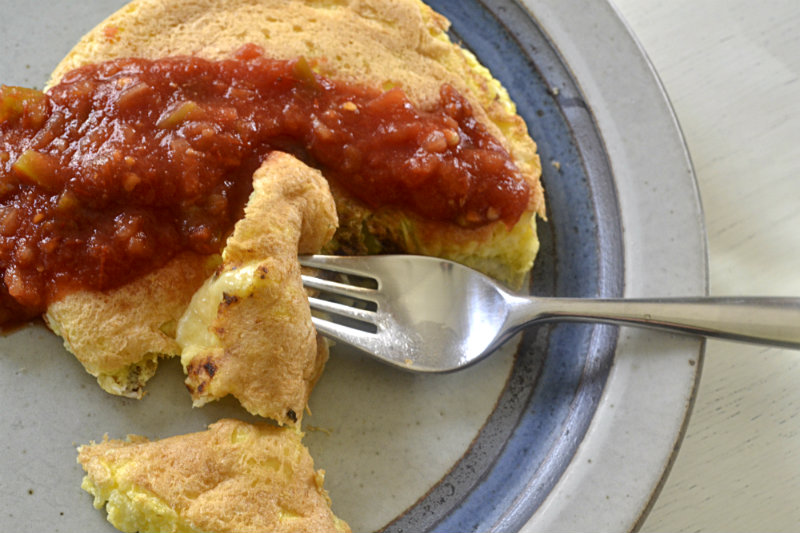 Chile relleno is an anytime meal. This is light and fluffy. Simply delectable! Use your favorite salsa for the topping or go it alone. Serve with a slice of avocado, or rice and beans for the hearty eaters.
Recipe
Serves 4
6 Eggs, room temperature
7 Ounce can fire roasted mild green chiles, contains about 3 chiles
1 and 1/2 Cup shredded cheese ( 1C Longhorn cheddar and 1/2C Jack; or use combination Mexican cheeses)
Salt to taste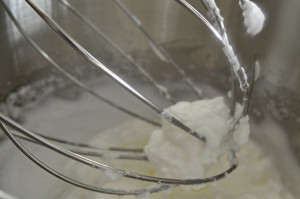 Separate the eggs and set aside the yolks. Beat the whites with an electric beater until stiff peaks. These are a tiny bit dry but this did not change the outcome.
Wow! What have these chickens been eating? These egg yolks were beaten separately with an electric beater. Then I have added them to the beaten egg whites here. If you are going to salt the eggs I suggest adding the salt to the yolks when you are using the electric beater.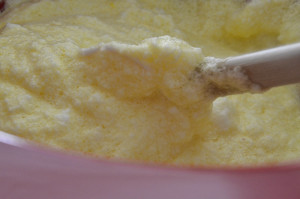 Fold the egg yolks into the egg whites. Heat a nonstick skillet over medium heat.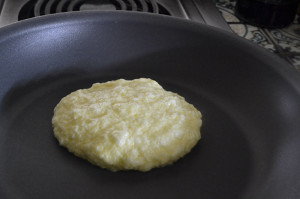 Wipe the skillet with a little oil. Add a heaping serving spoon of the mixture onto the heated skillet.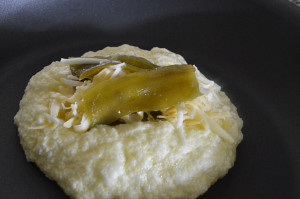 Add 1/2 chile, that has been drained well and blotted with paper towel, and 1/4 cup shredded cheese to the center of the egg mixture. Watch the bottom to assure it is not getting too brown too fast. This will need time to cook all the way through.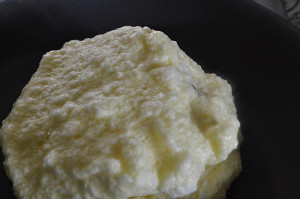 Add an equal amount to the top covering the pepper and cheese. Check the bottom. Is it beginning to brown? If so, gently turn the stack over. Turn the burner to medium low if it is browning too fast. Cover the skillet to encourage cooking all the way through. All this just takes a few minutes.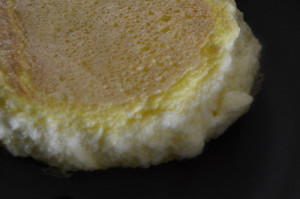 Here it is after turning it over. See the sides are still damp and need further cooking. Use flat of spatula to rein in the sides to give a finished look. When fully cooked remove to a serving dish. The cooked chile relleno will lose some height when cooling. This is normal. You can also cook these on a griddle several at a time. However, I would lower the heat and cook longer so the interior fully cooks and the cheese melts … since it is unlikely you will use a lid. Like lots of green chiles? … Use an additional can of green chiles and place an entire green chile in each chile relleno.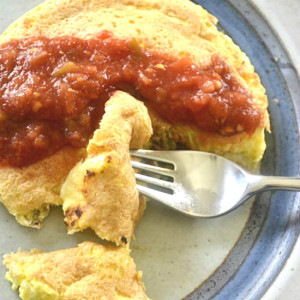 Someone doesn't like eggs? Make them a quick panini! Have to have meat on the panini? Add a slice of roast beef.