Chili Beans Country Cornbread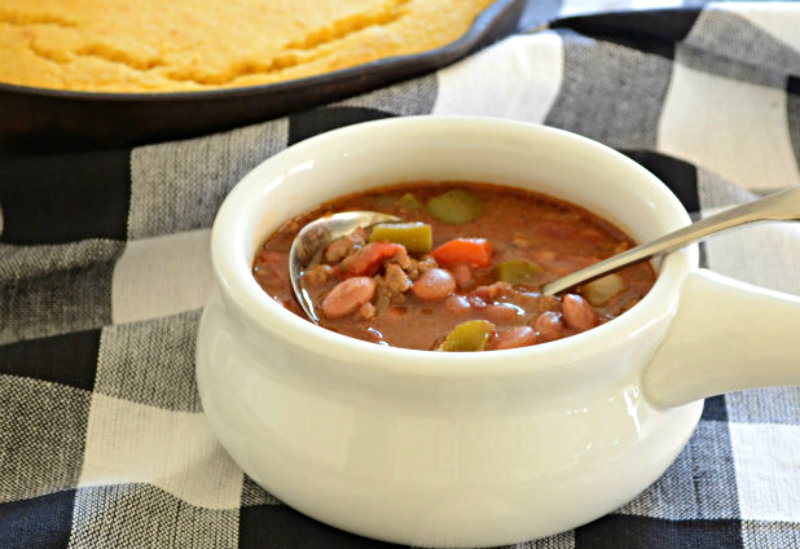 These Chili Beans have a little bit of everything … definitely a main dish. Spicy and hot if you are into it. OR the dish can be tamed. It's up to you. This recipe is easy but does take time to cook to bring out the flavors. After the first few steps it can be cooked in a crockpot if you have one large enough. This recipe tends to grow. I suggest an eight quart stock pot just to provide even heating and easy stirring … no worry of spilling over.
Recipe
6-8 servings
Prep time 15 minutes
Cooking time 2 1/2-4 Hours
1 Tablespoon olive oil
1 Medium onion-chopped
2 Cloves of garlic-minced
1 Green bell pepper-chopped
1 Red bell pepper-chopped
1 Pound hamburger
1-2 Teaspoons cayenne pepper (use less and then increase to achieve heat desired)
2 Teaspoons cumin
1-2 Teaspoons crushed red pepper (use less and then increase to achieve heat desired)
2-3 Tablespoons chili powder (This is more spicy than hot but again add small amounts and taste … you might even like more)
2 Teaspoons dry oregano
15 Ounces crushed or petite cut tomatoes
32 Ounces of beef stock
One bottle of dark beer (optional)
1/3 Cup semi sweet chocolate chips
1/4-1/3 Cup Masa for thickening
1 Pound dry pink beans-picked through and washed then soak overnight or quick soaked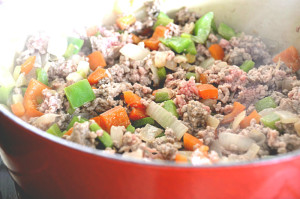 Heat the oil over medium heat and add the onion, garlic and both bell peppers. Sauté until tender. Add the hamburger to the mix and brown. Add all the ingredients except the masa and salt. Simmer over medium to low heat until beans are tender. Pink beans are firm beans and do not cook as quickly as pinto beans. Toward the end of cooking salt to taste and add masa to thicken. Too hot with cayenne? Add more broth or water.
Salt to taste. If not enough salt is added the taste will be bland. Depending on the salt content of the tomatoes and stock you may need up to 2-3 teaspoons. Add … taste. Add … taste.
Garnish with sour cream, cheese, green onions, salsa, cilantro or nothing at all. It stands alone easily. Enjoy!
I enjoy the Country Cornbread crumbled over the top. Country Cornbread next post.