Deliciously Easy Chocolate Cake recipe
This Cake has a Long History and is Amazing!

I've researched this recipe, Cocoa Divinity Cake … Looking for the origin. My mother's frayed copy leaves much to the imagination except it asks for Softasilk cake flour. My best guess is, the printed recipe was found inside a box of Softasilk in the 1940's. This was our family's favorite chocolate cake … sometimes made into cupcakes for birthday parties. It has a moist mild chocolate taste I have not tasted with any other chocolate cake recipe. No substitutions are recommended.
I have over the last years attempted to make certain substitutions. What I have found … substituting butter for shortening is disappointing. The texture and all things that make this cake memorable dry up literally. I have even portioned the butter and shortening, half and half. It just doesn't give the texture I like. Don't get me wrong … It is still great! But not fabulous with the butter substitution. I have added vanilla … not sure this makes a taste difference. Another important point … This is not a cake you can repair if you over beat or over bake. It will be dry.
I hope you will give it a try. So many compliments over the years for this simple chocolate cake.
Recipe
Serves 8-12
Bake in preheated 350 degree F oven for 20-25 minutes or until toothpick inserted into center comes out clean. Cool 5-10 minutes in pan after baking and then remove from pans for final cooling.
Use 8″ or 9″ round cake pans, buttered and floured
9″ round will bake faster
1 and 7/8 Cups of sifted cake flour (1 and 3/4 cups plus 2 tablespoons) Sift before measuring
1 and 1/2 Cups sugar
1 and 1/4 Teaspoon baking powder
1/2 Teaspoon salt
6 Tablespoons cocoa
2/3 Cup shortening
1 Cup buttermilk
2 Eggs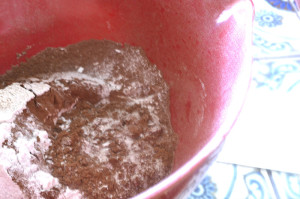 I sift all the dry ingredients, not necessarily together. Set aside.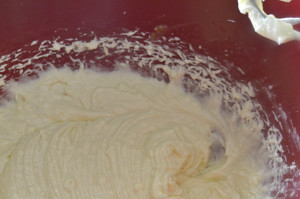 Beat eggs and shortening together until creamy.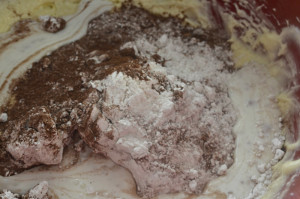 Add dry ingredients a little at a time alternating with buttermilk to the creamy mixture. Just mix until incorporated. Careful not to over mix.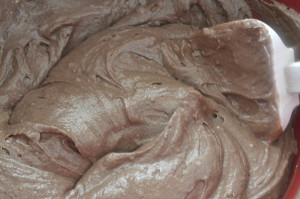 The cake batter is thick. Pour batter into two 8″ or two 9″ round cake pans. Or pour into oblong cake pan. Oblong may take a little longer baking.
After cooling cake prepare frosting and frost the cake. I used the frosting we have always used. It is a no cook chocolate butter cream made with warm coffee. Does the idea of mocha not sound good to you? Substitute cold milk or cream for the warm coffee.
No Cook Chocolate ButterCream Frosting
2 and 1/4 Cups powdered sugar
3 Tablespoons cocoa
1/3 Cup butter or less if you'd like
1 Teaspoon vanilla
Sprinkle of salt
2-4 Tablespoons hot coffee, add one tablespoon at a time to avoid making frosting too runny
Beat by hand. Alternatively, beat with mixer to a softer peak.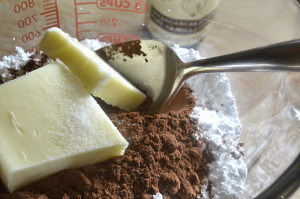 All ingredients placed together.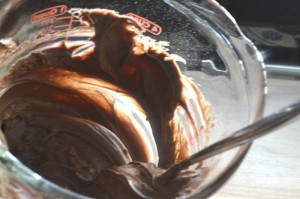 This was beat by hand.
Hope you enjoy our family favorite!